"Zelda: Lampshade"
Author:
The-Super-Flash-Bros
Audio used:
Unknown
Origin:
07/25/2005
Size:
724.7 KB
Score(As of November 21, 2010):
4.22/5.00
Author's comments:
"The Legend of Zelda: The Lampshade of no real significance"

A brand new game from The Super Flash Bros!

www.SuperFlashBros.net

Explore the town of "Hyscule" in this RPG. Look out for countless Decline, Newgrounds and Gaming cameos in Link's strangest adventure ever to hit the Web.

Credits: -------------------- Tom: ActionScript Game design Music Additional script

Dim: Art Animation Additional Design Script
Zelda: Lampshade is a Zelda Parody game by The-Super-Flash-Bros.
Zelda: Lampshade is essentially a game based around trading. The game opens with a faux boss battle, which can be defeated with one button. After receiving the Mystical Lampshade from where the boss once stood, the player enters the town, where they have to find items and deliver them to various characters to progress. In essence, the entire game is a long trading quest. Players control Link's movement using the arrow keys and interact with people and things using the spacebar.
Presentation
Edit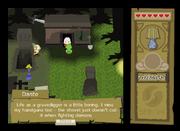 Zelda: Lampshade is presented in a top-down view similar to the 2D Zelda games. The art style is also similar to the Zelda games. However, a number of characters from other series, such as Dante from Devil May Cry and Samus from Metroid make appearances. Other anachronisms, such as a McDonalds and members of the Super Flash Bros, also make appearances. Actual music from the Zelda series is used.
Reception
Edit
Upon submission, Zelda: Lampshade took the Daily and Weekly 2nd Place awards. As of November 2010, the game has had over 3.3 million views, and an average review of 8.7/10. It is also featured in the Adventure Games and Zelda Collections.
Community content is available under
CC-BY-SA
unless otherwise noted.