"Zelda's PRIDE force"
Author:
nalem
Audio used:
Unknown
Origin:
05/29/2005
Size:
2.8 MB
Score(As of 21 January, 2012):
4.23/5
Awards:
Daily Feature
Author's comments:
EDIT 2: Woo. 100K views and on the frontpage. What more could a girl ask for. Mentor also got himself an NG account so I added him in the authors list. He's "Zente".

EDIT: Forgot to do this. Thanks to Fusion Warrior for the title idea. And the red head is Malon to those who're wondering.

This is just a joke, so hopefully no one will take offense.

This is based on an OLD concept. Very old. Well, maybe just about 6-8 months old. I was too embarassed to throw my idea out to anyone. But then I told Mentor about it. He enjoyed it and agreed to voice Link for me. Which was good cuz everyone hated my Link. XD I still get a chance to voice him in the movie. Anyway, this took me 2 months to do, with alot of... patience? And... drugs. Lotsa drugs.

No I'm kidding. I wasn't high while doing this. Mentor wasn't either. At least he's pretty sure he wasn't.

Just watch the shit, okay?

Note
This information only refers to the official release on the Flash Portal.
Zelda's PRIDE force is a flash animation by nalem. It is a parody of the Legend of Zelda series, particularly Ocarina of Time, and Mario games in general.
The movie starts with Zelda, the princess of Hyrule, picking flowers in the forest. She hears somebody sneaking up behind her when Malon, another woman, jumps on the sneaking person out of nowhere. It turns out to be Link, the hero of the Zelda series and the guy Malon has a crush on. Link manages to pull Zelda away from Malon and confesses that after years of saving her from evil, she has come to love him. Zelda, in turn, confesses that she loves Saria, Link's childhood friend, and incidentally, another woman. Saria then finds Zelda and they lovingly walk away together. Link collapses from shock.
Suddenly, he wakes up in bed. Apparently, the entire thing was a bad dream. He then turns and faces Ganondorf, his mortal enemy and, apparently, his gay lover. Once again, this turn out to be a dream, except that the dreamer was Mario, who fell out of bed. He then tells Peach about his dream, before being offered a mushroom. After several jokes about games like Super Mario Sunshine and Shadow the Hedgehog, the scene closes. The final scene consists of nalem's mentor insulting the movie's plot, and nalem admitting that it was fairly chaotic.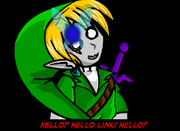 Zelda's PRIDE force uses a simple art style, but one that is similar to that found in Zelda and Mario games. The various Zelda characters appear as they did in Ocarina of Time, and several tracks from that game are used. Later in the movie, Mario's small size seems to be inspired by his appearance in his earlier games, where he would shrink after being hit by an enemy and grow after eating a mushroom. The movie's various characters are all voiced, even though they have subtitles.
Zelda's PRIDE force was a hit on Newgrounds, especially among Zelda fans. As of January 2012, the movie has over 1.1 million views, and an average review of 9.0/10. Zelda's PRIDE force won the Daily Feature award, and is featured in the Zelda collection. Ironically, nalem's other, earlier Zelda parody, Sheik Be A Woman, has a slightly better score, despite never winning any awards.
Community content is available under
CC-BY-SA
unless otherwise noted.