Sup. This is MikeyS9607. This is my Wikigrounds page. I make flashes, and other stuff.
Mikeys is a borderline editor, who's editor work all needs to be checked, but he has a few ideas and can be creative. He is very passionate about his own Flash work on Newgrounds and Salnax believes his series is underated, so maybe he will make it some day. He is coming round to being polite and we hope to involve him more on the wiki going forward.
Icedragon64 22:16, January 24, 2011 (UTC)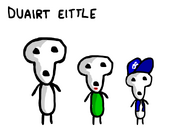 Duairt Eittle is an animated series on Newgrounds and DeviantART made by M And S Productions owners, BanglaBoy96 and MikeyS9607. Episode 1 was first released on March 9th 2009.
A theatrical movie has been announced to be released between 2010 and 2012.
Duairt has 3 main Spin offs, Pickilow the Plop, Draw Stick and Private Crappy. All made by the same company.
Duairt Eittle is mostly set in Duairtsville, Eittley. The main Characters are Duairt, Baybo and Citty, along with Stuart, his enemy, Obeace Feace and Splatt. Other characters include Pup-E from episode 12, Deirim Duairt's wife, Deirfidh, Duairt's son, and Bird who only appears twice in the whole series.
Duairt makes cameos in Draw Stick, Pickilow the Plop, Private Crappy and The Button Games by BanglaBoy96.
On the 9th of March 2010, the M And S Productions website changed their layout in honor of Duairt's first year on Newgrounds. Mikey was too lazy to change it back. That site is gone now.
Duairt Episode 1: http://www.newgrounds.com/portal/view/486405
M And S Productions Wiki: http://mands.wikia.com/wiki/M_And_S_Productions_Wiki
Some Thread about MikeyS9607: http://www.newgrounds.com/bbs/topic/1198505
Mikey's "Notability (Not much)"
[
edit
|
edit source
]
Admin Instructions- This section is whatever Mikeys' wants it to be- DO NOT take it seriously or interfere with it!! Icedragon64 22:19, January 24, 2011 (UTC)

[

edit

|

edit source

]
Mikey has 1 award, Turd of the Week for Kill Citty, which he made and uploaded on his Alt account "Pickilow" account and added himself as a collaborator. He has been banned from the BBS a lot of times for spamming,
Community content is available under
CC-BY-SA
unless otherwise noted.