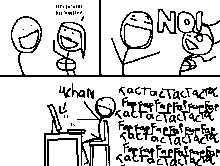 Hello, I am Heyno http://heyno.newgrounds.com/ on Newgrounds. If you cannot reach me on this wiki, leave me a PM there, and I will be happy to answer queries you may have about any of the work I do here.
About Him
Edit
Grimu, AKA Heyno is a relative newcomer who quietly does a lot of little edits. So far, nothing big, but he is stacking up the badges and he is on most days lately. His work is careful and constructive. On NG, his greatest claim to fame so far is surely this reply on General:
Crapatflash- So I was sitting on the tram with a bunch of friends on the way home from school today, and just as the tram was pulling out from the stop we hear a bang. We turn around and see this random girl with her face smashed against the door. How the fuck do you faceplant against a door? Regardless, we were laughing our asses off and she just had this wierd look on her face... How was your day, NG?
Heyno- Well, I was Cosplaying as a door. I was preparing for a scene in the Lion the Witch and the Wardrope. Just as some mean teens were walking out of a tram, a teenage girl faceplanted into me! I crashed out and awoke to all of you laughing at me.
How was YOUR day, Crapatflash?
Community content is available under
CC-BY-SA
unless otherwise noted.