"Tricky bangbanggooberblat"
Author:
Krinkels
Audio used:
Newgrounds Rumble Theme
Origin:
09/10/2003
Size:
88.9 KB
Score(As of December 15, 2012):
2.79/5.00
Awards:
Author's comments:
THIS MOVIE FILLS YOUR RAM WITH PENISES!!!! =D LOL!!!ONE!111
Note
This information only refers to the official release on the Flash Portal.

Tricky bangbanggooberblat is a flash movie by Krinkels, and was released one day after another movie of his, Madness Avenger. It is one of his Madness spinoffs, and is one of the more successful spam submissions in Newgrounds history.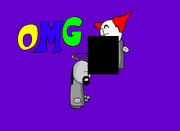 Tricky bangbanggooberblat is a short loop with a piece of music. It features Tricky, as seen in the Madness series, hitting Jesus Christ repeatedly with a long, erect penis. Jesus flinches every time he is hit, but otherwise doesn't react. Meanwhile, the background changes colors every frame, while the letters "OMG," which also change color rapidly, grow and shrink. "Tricky's Song," a remix of the 18th century, "Sailor's Hornpipe," loops infinitely.[1]
Tricky bangbanggooberblat has been surprisingly well received on Newgrounds. As of December 2011, it has over 940,000 views, and an average review of 7.3/10. Although these numbers are quite low compared to the main entries in the series, they are nonetheless impressive for a submission of its type. Tricky bangbanggooberblat is also featured in the Madness collection.
View it here WARNING: this link contains material which is inappropriate for viewers under the age of 18. If you are under 18 and/or are offended by adult content, do not follow this link.
Community content is available under
CC-BY-SA
unless otherwise noted.