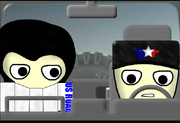 UPDATED 02/19/08
*THIS ANIMATION IS GRAPHICALLY INTENSIVE*
Based on your computer/connection there might be animation lag/lip syncing not matchig up. Also to my fault the animation was done at 18 FPS, so lag is more than just a maybe its more than likely.
This is based off of the TooF characters by Logo presents. My first NG submission, and since then I have learned a good bit. All animation/design etc is by myself, with voice acting by Logo, Ramiro, and Chris Nosal (Badguys). This animation took a lot of time, hopefully you will be able to appreciate this in the high detail backgrounds. This animation did suffer from delays, and was SUPPOSED to done in time for the Halloween 06 section. Thanks again to Logo for letting me use his characters in this animation.
If you have seen the 2003 Texas Chainsaw or the 2006 Beginning it will definetly help you appreciate the animation. I put a lot of stuff in this that people that have seen the movies will catch on to. Even if you haven't seen the movies though, you will enjoy it. PLEASE WATCH ALL 6 MINUTES OF THE MOVIE BEFORE VOTING. (AND YES DUE TO A LOW FPS 18 OR SO, THERE WILL PROBABLY BE LAG SORRY)
Community content is available under
CC-BY-SA
unless otherwise noted.