"Thing-Thing"
Author:
Sean McGee (Weasel)
Audio used:
N/A
Origin:
08/28/2005
Size:
628.1 KB
Score(As of 18 June, 2010):
4.25/5.00
Awards:
Daily Feature

Weekly 2nd Place

Author's comments:
Thing-Thing 2 is underway. Check out my site for more details.

--Update 2-- w00t front page! Thanks for your support everyone, I appreciate and I'm still reading all of your reviews. About all of the Madness comments: Niether I nor Krinkles are the first people to make a mouse aiming 3rd person shooter engine, and I realize that it's black and white in the beginning, but I wanted for the game to seem dismal and grey until you eventually make your way into the colorful outside world. In those respects, I think that this may play somewhat like madness, but they are 2 very different games. --Update-- Daily Feature! Thanks Everyone. I've been reading all of your reviews, and thanks for your imput. Also, you have to shoot your way out of the first room for everyone who didn't get that.

This is a game engine that I came up with a while back and it was purely for experimental purposes. I'm creating a full game around an engine similar to this and I wanted to get some feedback on it before I get too far into it. Controls are A and D move W jump SPACE is open doors, F is change weapons and mouse Aim/shoot. You can shoot out vents to move past an area. Note: there's only one level in this, so it's kinda short. Try the all weapons cheat, it adds in a bunch of guns that you can't get in normal mode.

Note
This information only refers to the official release on the Flash Portal.
Thing-Thing is an Action-Shooter-Run 'n Gun game submitted by Sean McGee AKA Weasel on 28th August 2005. As it starts almost all in black and white, and features characters with floating circles for hands, it resembles Madness Combat in style. In fact, it is featured in the Madness Collection page as a series that has the same "vibe" as the Madness series.
Story
[
]
The story of Thing-Thing is relatively simple, although it is elaborated upon in future installments in the series. The playable character, who can be customized before starting the game, escapes a cell where he is being inspected by a doctor. While escaping the facility, the player has to fight an enemy robot, Poseidon, the game's single boss fight. After escaping the facility, the player learns that they are called "Number 154," and are considered a bio-weapon. the game ends on a cliffhanger, when the player examines a fallen enemy that attacks him.
Gameplay
[
]
Like many Run n' Gun games, Thing-Thing uses a combination of the keyboard and mouse. This allows for simultaneous movement and accurate firing. The HUD indicates the player's health and ammunition for their current weapon. Weapons can be picked up from where enemies drop them, and the player can switch weapons in real time; there is a default punch for times without a weapon. A cheat mode is also available.
Presentation
[
]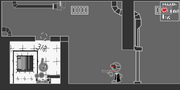 Thing-Thing's graphics are obviously inspired by the Madness series. The characters are usually composed of basic shapes, the environments are monochrome save for the occasional red, and much of the game takes place in an industrialized military complex. However, players do have the option to customize their character's headwear and suit before starting the game. In total, there are about 300 possible outfits. Although there is little to no music, a variety of sound effects are used, especially for the gunfire.
Reception
[
]
It is a great success on Newgrounds, winning Daily Feature and Weekly second Place. As of May 2012, it has an average review of 8.7/10 with over 1.6 million views. It also spawned an entire series of games, which currently has four main entries and three "arena" games.