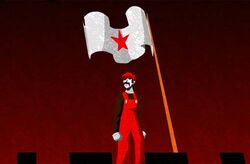 The People's Mario is a two minute long flash movie made by Celarent in 2006. It was released on April 15, the day he joined Newgrounds, and remains by far the most popular flash he's ever submitted. It was inspired by rumors that the popular video game character, Mario, was a communist. The movie shows Mario fighting a group of Goombas with his iconic hammer and reaching a castle at the end, in the traditional Mario style. The Russian Red Army Choir plays in the background for the entirety of the movie.
Style and Content
[
]
The movie is notably darker than the games it's based off of. Blood comes out of the killed goombas, and the traditionally colorful Mario climate is replaced with a red, vast plain of brick. The movie has a very different graphic style to the Mario game series, with 3D imagery, all-round 'camera' views and much more realistic art. The action is slow and weighty, with views which show the scene from the Goombas' point of view.
Reception 
[
]
As of December 2009, this flash has been viewed over one million times, and has an average score of 4.35/10 and average review of 9.3/10. The movie won trophies for the Daily Feature and the Weekly User's Choice. Celarent commented that he was surprised at the positive reception, and felt it was overrated. This Flash has also been included in the official Flash Portal History for 2006, where Tom Fulp described it as "one of the best Mario movies ever."
External Links
[
]