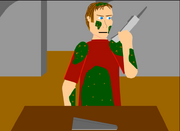 Update 4/18/04-Horror Psychiatrist 3 is now out!
Just wanted to say thanks to the people who supported the movie and wanted to give a special thanks to Newgrounds for putting it on the front page. The Horror Psychiatrist III will be my next movie!
Not sure how this got front page but that's still cool to me. Anyway I now realize that the sound sucks. I know that the review section is for you to express your opinion about the movie and all but I'm just saying that you don't have to waste your time typing stuff like the sounds sucks because I already know that. Anyway, hope you enjoy and for those of you who don't know, this is a parody.
Characters
Edit
Howard
Regan Macneil
Regan's Mother
Father Merrin
Regan's Cat
The Funny Devil
Community content is available under
CC-BY-SA
unless otherwise noted.