The Behemoth is an independent game developer company, founded by Newgrounds veterans Tom Fulp and Dan Paladin in 2002. Their aim is to create games that harken back to the early days of 2D gaming, with influence from Metal Slug, Double Dragon, and other 2D genre-specific classics.
The Newgrounds Connection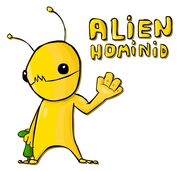 The company was founded on the great success of Alien Hominid, first released on Newgrounds. The prototype game has now been downloaded over 10 million times.
The Games
The Behemoth's first game was the highly anticipated console version of Alien Hominid, which was distributed by O~3 Entertainment and was a hit with the gaming community. It has been released on four different consoles, then a HD vesion was released on Xbox Live Arcade. Their next original title, Castle Crashers, is exclusive to Xbox Live Arcade, and was released in August 2008. By June 2009, Castle Crashers had been downloaded over one million times. Their most recent game, Battleblock Theater was released in April 2013 on Xbox Live Arcade.
Charity
Despite its limited funds, The Behemoth has been a regular giver to tragedy. Following the earthquake in Haiti, they promised to donate twice as much money as people spent on their games. Later, they promised that they would continue donating 200% until they reached $50,000. [1]
External links