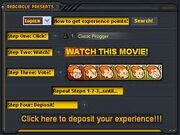 Many visitors to Newgrounds find themselves wanting to come again and become fans of the site. This in turn makes some fans want to support or help the site in some way. The way the site enables people to communicate and to get involved encourages people to feel that it is more than just a site where they can come and see things- that it is a place where people can belong and be a part of.
Newgrounds encourages this feeling by such things as Membership and the whole Experience Points system, along with invitations to become volunteer workers for the site, such as moderators and wiki editors.
List of some ways to support Newgrounds:[edit | edit source]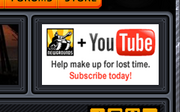 Join- Newgrounds membership is part of the statistics the site uses to demonstrate its significance.
Vote regularly, including Flash submissions in Judgment- The site needs people to vote on submissions to at least get them through the Judgment process.
Volunteer to work for the site - the site has more volunteers than staff and completely relies on them to run the site as it is.
Subscribe to NG's You Tube account
Tell your friends - anyone who you think would enjoy time on this site should definitely give it a shot. Adding new users gets more attention for the site, too.
Improve Wikigrounds- an informative,substantial wiki to back the site improves its credibility and usability and attracts further visitors.
Contribute Flash, audio art and writing- the more material there is, the more people will come.
Review- the quantity and quality of reviews here is one of the things that attracts people to submit their work to Newgrounds.
Create crews, clubs and competitions- volunteers can create these things which help to develop a sense of community and to stimulate people to get involved.
Report work stolen from Newgrounds and put on other sites- The exclusivity of some material to Newgrounds is part of what brings people there to see it and fans support in controlling where it is uploaded helps to attract authors to submit to Newgrounds.
Community content is available under
CC-BY-SA
unless otherwise noted.