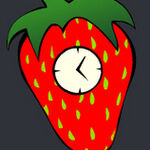 Strawberry Clock is a character in many movies created by the Clock Crew and others. His character was created from the name of StrawberryClock, a user who inspired the creation of the Clock Crew. He is portrayed as being the leader of the crew of characters representing the Clock Crew in their animated world of Clickeroony etc. He is traditionally portrayed in the centre of the lineup of the five original clocks:

The original avatar is very messy, but other authors have usually made the character look more like a strawberry, usually with yellow pips , though not always. He is often portrayed with a crown, as King of the Portal, or of Clocktopia. He has been portrayed in 3D, with fancy angles, usually bouncing along, though occasionally a glimpse of arms or legs can be seen. Early movies have him with no hands or arms and things just moving as if he picked them up. Most later ones have him with red circles for hands and a few have proper hands, sometimes with yellow pips on them.
The Gang
Edit
Strawberry Clock is on the front, left of The Gang, a picture of some of the most well-known characters on the Flash Portal Page.
Parodies
Edit
His image- a strawberry with a clock as a face- has spawned a multitude of other Clock characters- OrangeClock, RaspberryClock etc, each a member of the Clock Crew. It has also been the inspiration of the other crews which copy the Clock format- StrawberryLock, StrawberryDock etc, each with their appropriate image for a face, then followed by RaspberryLock etc. In other crews their Strawberry character, if they have one, is often shown with a similar role to SBC, such as Strawberry Dock killing his own army.
Beyond Newgrounds
Edit
Strawberry Clock and the Clock Crew have gone beyond Newgrounds to such sites as YouTube, with Strawberry Clock submissions either being posted there by Clock Crew Authors or taken from Newgrounds and posted there later. Searching on YouTube brings a string of Strawberry Clock submissions, such as this. He also appears in an online flash game titled "Interactive Buddy" as a skin. You can find the game here.
Newgrounds Links
Edit
http://www.newgrounds.com/collection/clockcrewhistory Official History of the Clock Crew
http://strawberryclock.newgrounds.com SBC's User Page
Community content is available under
CC-BY-SA
unless otherwise noted.