Soup Squad
Name
Soup Squad
Founder
Little-Rena
Date founded
Feburary 12th 2011
Current status
Active
Current leader
Little-Rena
Official day (if any)
Feburary 12th
Allies
Demonic Domain
Enemies
EggLegion
Website
[1]

The SoupSquad (also written as "Soup Squad") is a flash crew created in 2011, who submit flash to the portal from time to time, including the Soup of the Day flash series. They were founded by Little Rena, who is a well-known user who has already been associated with a number of crews.
The SoupSquad was founded on the 12th of February with the TomatoSoup Finds Love flash made by Little-Rena and the forum used was running InvisionFree, Little-Rena was the only member of the crew at this point and expressed that she never expected it to grow. However the crew grew after a short time with the arrival of Narcissy and Krutches, who both now help to run the crew. Narcissy taking up most of the responsiblities and acts as the most active member -- even creating their forum and site .
Canas 2011
Edit
See Canas 2011 on the Hacking and Phishing page
There were accusations that the SoupSquad where involved in the hacking of the account, however they deny any involvement and many SoupSquad members also got review bans from this attack. Around this time, the SoupSquad was also suffering from accusations of stealing awards, however this is also denied and other than the usage of the crews name, there is no connection to any of its members.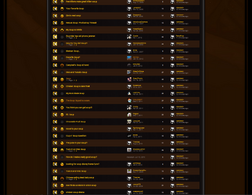 On the first day of SoupSquads Ban Week holiday, a multitude of accounts made an appearance in this thread . The account that made the thread was believed to be hacked because of the fact it had been inactive for about 12 years, was a level four and said quote 'I log on to deposit my daily exp and I see all these fucking soup movies.'. In the thread several new members, all signed up that day, appeared and stated they 'would hack newgrounds', 'hate newgrounds', ect.. Some of the accounts made were 'StrawberrySoup' and 'GayIdiotSoup'. Is is suspected that this was the work of the Kitty Krew.

Soon after, multiple threads about soup were bumped, dating as far back as '06.
Notable Members
Edit
Other Soups
Edit
PotionSoup
KittySoup
NinjaSoup
PillowSoup
ZuchinniSoup
CroutonSoup
CharlesSoup
EggmanSoup
BiscuitSoup
iPodNanoSoup
PIZZLESoup
P Soup
PantsSoup
Cake Soup
Ninja Soup (the best soup)
Notable Flash
Edit
The SoupSquad haven't made much impact on the flash scene but have still made a few notable flash. The following Flash have either gained a Portal Award or otherwise gained official attention:
Soup of the Day
Edit
This is the main series of flash for the Soup Squad- where members of the Soup Squad make something to fit a theme, although outside flash artists are invited to join as well if they wish to do so.
| Name | Wiki Page | Bio | Latest Soup Flash (As of Mar. 8th, 2013) |
| --- | --- | --- | --- |
| TomatoSoup | Little-Rena | The founder and only female member of the Soup Squad. She's very rarely active or even visits the current site, but not one member is unfamiliar with her. | Another Year Down |
| CannedSoup | Narcissy | A hard worker who has helped keep the Soup Squad alive. he is also the current ruler and cruel dictator of everything soup. | Sodomy Brothers |
| TacoSoup | None | Known for his jewish homosexuality, Taco used to be the only Soup member to do voice work until RamenSoup began to talk and PantsSoup joined. He has recently become known as the best writer. | Carrot Makes a Flash |
| StoneSoup | None | Known for his great art, Stone is a highly respected Soup. | Soup Fest 2013 |
| RamenSoup | None | Ramen is known mostly as being the blackest lil' Soup. | Removed by moderators |
| CarrotSoup | None | CarrotSoup is generally known as a lazy Soup. He has commendable art and flash animation skills though. | |
| PSoup | None | Known as the member with the biggest, hardest member, he hasn't made critically notable flashes, but he has critically injured some sexy asses. Also, he's a giant pea. | cake just LEAVE |
| EggmanSoup | None | The most heterosexual soup around who gets all the women. He also makes a lot of flash dedicated to ponies, for he hates those 4 legged freaks of nature. | Canned "hates" Bronies |
| iPodNanoSoup | None | Formerly staring in david firth's hit flash "dog of man" as the wallpaper, he continues his feature length spam and ironic humor on the Newgrounds BBS and the chat to this day. Caution: he bites. | A Day in Souplandia #5 |
| CakeSoup | | The punchline of the Soups, also the squad's main bitch. | who cares |
| NinjaSoup | Ninja | Quit the soup squad in 2012 because he's a queer Serbian and the prime example of his disgusting people. He was famous for his indepth movie reviews and high-quality flash skills. | Poke'mon |
| PantsSoup | Life Story | A swanky boy from the swankiest parts of Souplandia, Iran. He likes to suck Taco's balls and vice versa. | Madness Cancelled |
| Tommy-Lee-Baret-Soup | Tommy's life story | May or may not be iPodNano's alt. | tommy-lee-baret-soup 02 |
| BiscuitSoup | The Lord | One of the many black members and also one the more handsome. He is the one who recruited P, not TacoSoup. Recently garnered more fame for Soup Squad by animating a front page featured flash. | Message To Tom Fulp |
| Icon | Episode Number | Theme | Artists | URL |
| --- | --- | --- | --- | --- |
| | 1 | None | Krutches, Little-Rena, Narcissy and StoneColdCrazy | SotD #1 on NG |
| | 2 | Pirates | Krutches, Little-Rena and Narcissy | SotD #2 on NG |
| | 3 | Summer | Krutches, Little-Rena, Narcissy and StoneColdCrazy | SotD #3 on NG |
| | 4 | Religion | Krutches, LefyBoy, Narcissy and StoneColdCrazy | SotD #4 on NG |
| | 5 | Public Service Annoucement | Krutches, Fandago, Narcissy and LefyBoy | SotD #5 on NG |
| | 6 | Lazy Shits | Krutches, Little-Rena, Narcissy, CrazyRock,LefyBoy and tehtimmy4080,Fandago | SotD #6 on NG |
| | 7 | The Soups | Krutches, Little-Rena, easterBilly, LefyBoy and tehtimmy4080 | SotD #7 on NG |
| | 8 | Christmas | Little-Rena, Narcissy and Stracked | SotD #8 on NG |
| | 9 | New Year | Little-Rena, Narcissy, CrazyRock, StoneColdCrazy, Krutches and tehtimmy4080 | SotD #9 on NG |
| | 10 | Death | | SotD #10 on NG |
| | 11 | Racism | | SotD #11 on NG |
| | 12 | Violence | | SotD #12 on NG |
| | 13 | Canned is a Slavedriver | | SotD #13 on NG |
| | 14 | The NG User: Pride | | SotD #14 on NG |
| | 15 | CakeSoup is Abused | | SotD #15 on NG |
Community content is available under
CC-BY-SA
unless otherwise noted.