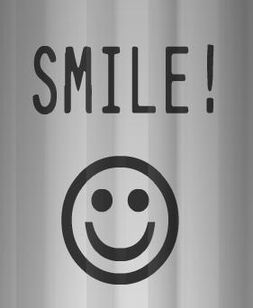 Smile!
is a Flash movie by
Alek Wasilewski
. Reviews have said this is very creepy, disturbing, Edger Allen Poe type of movie. Yet other reviews have been saying this movie holds a very strong message, mostly about the Chinese government and the Holocaust. This was rated +17 for blood and mild sexual references.
Smile! takes place in some twisted game where there are these five people with five buttons, one for each person. Then the player comes up on a ledge that is built in an abyss-like area. Then there's this neon sign that drops down, and it says SMILE! when it lights up. The main object of the game is to smile when the neon sign lights up. But there's a catch. If you don't smile, one of the five people pushes a button, and suddenly, a big spike flys out from behind you, and it's like a bullet that goes through your body. So, if you live you win. If you die you lose.
Smile! is about a person that plays this game. But he refuses to smile. Now he has to pay the consequences.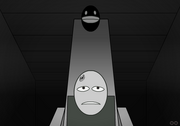 The music is only a 30 sec. sample of Godspeed You! Black Emperor's song Providence, yet it repeats all through the movie. Most reviews have said that the music really fits in with the movie, and the music is one reason why it's creepy.
Reception on Newgrounds
Edit
Smile! has been reviewed over 4,500 times, viewed over 1 million times, and has an average score of 8.7/10. The awards it has gotten is a Daily Feature (5.3.2004) and Weekly 2nd Place. (5.4.2004)
Community content is available under
CC-BY-SA
unless otherwise noted.