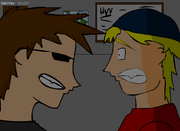 Ms. Sunnyfeld has passed away, and one class of students at Regal Valley High School have a new teacher... MWAHAHAHAHA!!!!
Well anyway, just make sure not to pause the movie or the subtitles will get all messed up. I created this movie especially for Halloween and thought it up while I was at school. You can discuss the movie and more in my forum on my website which REALLY needs users!
by Cleod-9/McLeod Gaming
https://www.newgrounds.com/portal/view/275405
https://www.mcleodgaming.com/games/archive/school
https://mcleodgaming.fandom.com/wiki/School
Community content is available under
CC-BY-SA
unless otherwise noted.