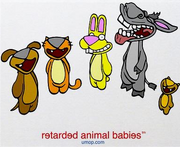 This was a series created by Dave who started the series in 2003 and it ended in 2012. It is About Young Animals Such As Puppy, Cat, Bunny, Donkey, and Hamster.
Episodes 1-7
[
]
He released the first 7 episodes on to Newgrounds which were hits 3 of the submissions even each got a Daily 1st, weekly 1st and Review Crew Pick. It was a very successful series for him and all of Newgrounds.
Episodes 7-14
[
]
He got another 3 awards flash and Tom was deciding of making a DVD if he released a few more to put onto it and in the end the DVD was fast selling as many people bought it from the stores. By now some other now popular Newgrounds stars were starting to rise and views and fans were hard to get so he aimed for the older and more mature making the films nastier than before.
Episodes 14-20
[
]
He continued making the series most of the next flashes also big hits than after 2007 gone by he was working on other projects and said he'd be spending more time into working on his improving animation and better written scripts with RAB. Episode 20 was a so-called Series Finale by many fans as it seemed to draw RAB to a close and he didn't release another one until later the next year as usually he releases at least 7 every year. After he made 20 many fans thought it was over and done with.
Episodes 21-23
[
]
Since the fan called "finale" he submitted 21 which was a major success since it was considered a come back and amazing that just knowing the fact that the series wasn't over and people realized his animation had grown grossly amazing and tied right up with the other Newgrounds stars. Episode 22 was another hilarious success and he promised to tone the complete nastiness down a few notches as not many viewers were scanning for adult rated films and he seemed to be attracting some trolls.
23 was the last episode of RAB that Dave made. In the episode, Puppy has a job, his new wife is annoying him, he then goes to marriage therapy, loses it and kills his wife and Pico as the Fucking Fucker, and after episode 23, he ended the series. 6-10 months after episode 23 came out, he ended the franchise. He was originally going to have a season 2 DVD with episodes 17-23 and cancelled episode 24, the season 2 DVD of RAB and the DVD exclusives episode 25 and episode 0.
A year later, on April 6, 2013, he uploaded the DVD exclusive episode 9 to Newgrounds for RAB's 10th anniversary. Episode 16 is the only episode exclusive to RAB's DVD now.