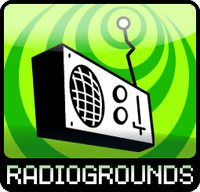 Radiogrounds was a free, online radio made for the users of Newgrounds.com. It had the slogan "Where rampant sex is encouraged and swearing is mandatory!", though standard chatroom rules actually applied.
Songs
[
]
The songs played on Radiogrounds may be downloaded at the Audio Portal on Newgrounds.
Current status
[
]
The Radiogrounds website is no longer online, and had not been updated since late 2011. Many formerly existing features, such as the ability to request songs and the built-in chat had been unavailable for some time previously. The radio stream itself is still available online here and can be tuned to with a compatible client.
External Links
[
]