Jackflashproductions, better known as Pineapple Atom,is the founder of the Atom Association. He has 34 Flash submissions from 2006 and 2007, none of which have won an award. Oddly enough, the only movie he has ever favorited, We Are NativeAmericanCats by HotDiggedyDemon, is a movie that has been removed from Newgrounds. He was also associated with the Sun Mafia and the Moon Squad
Atom Association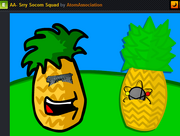 Jackflashproductions started the Atom Association with
this thread
. Despite the totally negative response to the thread, he went on to create forums and movies for a crew which grew and lasted for quite a while.
Sun Mafia and Moon Squad
After creating the AA, Jackflashproductions was involved with the creation and movies of the Sun Mafia and Moon Squad, both officially allies of his earlier creation, the Atom Association. Neither was very succesful and both dissappeared after just a few movies. He never seemed to get along or really come in contact with any of the Sun Mafia members.
Community content is available under
CC-BY-SA
unless otherwise noted.