Piconjo, the "god of teh pr0tal", is a popular user and character on Newgrounds. The account is thought to either be a single user or a group of users, though the frequent collaborations makes this unclear.
The account has made over 100 submissions, with some have been removed by moderators for a variety of reasons. Although it is sometimes asserted that most of Piconjos animations were of low quality, this is actually false, as many of his submissions have won awards, and he has authored a few animations such as Kerri's Bigger Invention, amongst the top 100 movie submissions on Newgrounds. A notable series is the "Wadolf Saga," which depicts Newgrounds as a fascist nation ruled by a Hitleresque Wade Fulp.
Piconjo has been the center of controversy, being seen as a harsh critic of other animations and animators including LegendaryFrog and illwillpress. A handful of users who have frequently collaborated on Piconjo projects were dubbed "the Piconjers" and have been paid tribute to in several movies, such as SickDeathFiend, GreatAnimatorOnizuka, Livecorpse, and T0MMY.
In June of 2021, a Piconjo Day event was organized to celebrate the Piconjo series as well as the return of Piconjo after years of absence.
The Character
[
]
The character of Piconjo fluctuates in design from a stick figure to more realistic renditions with strong anime/manga influence. The most common design elements are flowing orange hair, an often muscular build, and a prominent penis. Although the character in Newgrounds Rumble was given the name "Piconjo", the design is not found in any of Piconjo's works and Piconjo himself has denied this as an accurate representation of the character in various posts/art from the Piconjo account.
Piconjo's "p3n0r" is depicted as a large, stylized penis in many Piconjo animations, most commonly being used as a weapon or source of power/strength. This appendage is frequently used to "pwn" an opponent or a target of critique, such as in Piconjo: Reqiuem, wherein his penis is shown to have the power to bend space and time so that he may eternally pwn LegendaryFrog.
Relationship to Pico
[
]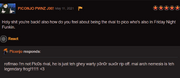 Perhaps because of a similarity in the names and some fan-made submissions, fans have claimed there to be a relationship between Piconjo and Pico, although there is very little evidence to any of these claims: as Pico has only made a handful of sparse appearances in the Piconjo series and has only been featured prominently in one of these.
The position of argument that Piconjo serves as a villain of Newgrounds may stem from the narrative found in Newgrounds Rumble, which was not created or endorsed by Piconjo. This narrative was the motivating factor behind the Buttchamber controversy wherein Piconjo declared the "Piconjo" found in Newgrounds Rumble was misidentified and is actually the character "Buttchamber".
Piconjo is stated to not have any biological siblings, although a character named "Jerkoffman" appears in a few animations, who claims to be his brother.
Piconjo has never asserted any relationship to Pico, but has addressed the controversy in Piconjo Berserk where Pico is depicted as the "Ghey Ripoff" before killing him, alongside other Newgrounds icons.
The creator of Pico, Tom Fulp, stated the two characters are not in the same universe, having gone on record to claim Piconjo is "not canon to the Pico Story".
Supporting Cast
[
]
The Piconjo series features a larger supporting cast than that of other Newgrounds series, though a few highlights include:
Legendary Frog (aka LF/Legendary Toad/Teh Frog) - Depicted either as an anthropomorphized frog wearing a crown, or as a man with black haired and blue eyes. Legendary Frog typically appears as comedic relief throughout the series and the target of humiliation when he opposes Piconjo. This character is commonly understood to be a direct parody of the Newgrounds user LegendaryFrog.
Toadies- A group of frogs who follow Legendary Frog in animations, though they have been used to parody other groups on Newgrounds. They are depicted as loyal soldiers to Wade Fulp in the Wadolf Saga, and in Piconjo: Return of Jerkoffman they are depicted as obsessive fans of Friday Night Funkin'.
JerkoffMan - A user account that collaborated on Piconjo movies, but also a character in Piconjo movies such as Piconjo Party, Count Frogula II, and Piconjo: Return of Jerkoffman. The character is depicted similar in appearance to Piconjo, though sports a trench coat which sometimes hides a suicide bomber jacket, which in some animations he uses to self-detonate. Rather than swept back orange hair, Jerkoffman's hair is green and swoops forwards. This character is a parody of Gerkinman, a former associate of LegendaryFrog.
Buttchamber - A balding, weak creature with a "small penor". The child of Legendary Frog and Oliver Longwood, a sinister Piconjo impersonator, although Piconjo declares the actual parents are unknown in a Newgrounds news post. The name originated as reference to Mindchamber's design of Piconjo in the Newgrounds Rumble game and was used as an act of mockery which served to distance the story presented in that game from Piconjo's movies.

Works by Years
[
]
Between 2004 and 2006, Piconjo was well known for submitting over 100 Flash movies of varying quality.

Though it is claimed by many that Piconjo's submissions were of low quality, this is largely untrue, as a high quantity have won awards such as Piconjo: Besitzen Sie, Piconjo Berserk, and Piconjo Jam 20, with one animation, Kerri's Bigger Invention, placing within the top 100 movie submissions of all time.

Piconjo had been inactive since his supposed death in 2005, with only a handful of movies listed in his profile for 2006 and 2007, all of which were co-authored, and no works after until his return in 2021.
In PICONJO CONFESSION XI, he announced that he had a kidney disease, and might die soon.
In a BBS post from from June 9th, 2005, Piconjo stated that he would be getting a double kidney transplant that day and " all I ask for a birthday present is that if I dont survive that j00 all remember one thing: PICONJO <3 j00". [2] Piconjo's account went silent shortly thereafter, leading many to believe he had died.
A movie titled "Rest in Peace Piconjo," by DAIRYDOG spread more confusion by declaring he died on July 12th, 2005, after a failed kidney operation, though Piconjo's account has since commented on this film clarifying "Exc3pt I teh died June 9th. But we can overl00k that mistaek lol."[sic][3]
2021 to Present
[
]

Piconjo made a sudden return to Newgrounds on May 1st, 2021 (Pico Day) in a BBS discussion created about him by user FuzzyFoe, and claimed he had been "trapped in teh gh3ytrix for 1337 y3arz fighting an endlezz army of gh3y toadi3s"[sic].
Upon his return, he began to upload new content, amongst them several art submissions and a few collaborations. In his first movie submission after reappearing, PICONJO PWNS J00, he announced that 6.9.2021 would become "Piconjo Day", a collaborative event.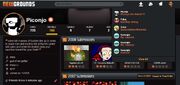 With his return, Piconjo brought with him a handful of his former collaborators, such as GreatAnimatorOnizuka and T0MMY, however he was unable to find SickDeathFiend for a short while, leading to the creation of "Piconjo: Sick is Missing!!1", an animation depicting several characters searching the globe for SickDeathFiend, which concludes with the message "Nevermind he sign3d on LOL!".
Links
[
]
The Piconjo Collection on Newgrounds