If for any reason a Flash is deleted from the Flash Portal a record of its submission and any reviews it had remains in the Obituaries. This section of the database is accessible from the small box in the middle of the Flash Portal Page with the skull picture, just above King of the Portal. The Obituaries section goes back to January 1st 2002.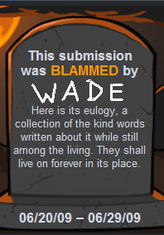 The Information Recorded in the Obituaries
Edit
The records are in date order and within that date, they are listed by default in time order. This list, which can be a number of pages long can be switched to alphabetical order using the "Title" button on the top, right hand side.
Clicking on each entry will link to a page where it shows, along with a gory picture of a dead Flash file, the score at death, the Author's Notes and any reviews it was given.
Accessing the Obituaries
Edit
The main way the Obituaries can be accessed is through the Obituaries button in the middle of the Portal Page. Yesterday's deleted submissions can also be accessed using the button below called "Blammed Yesterday". If the Submission number is known it is also possible to go direct to the submission/obituary by typing portal/view/number in the Flash Portal View address as in HERE.
Obituaries Art
Edit
The Horror Pictures of Dead Flash Rated M For Mature were created by Bluebaby.
Community content is available under
CC-BY-SA
unless otherwise noted.