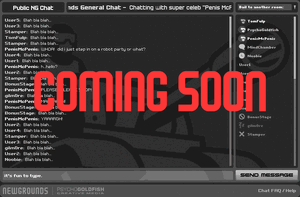 The Newgrounds chat is a system where Newgrounds users can Instant Message each other in a chat room. Before 2007, NG used an IRC chat client, but since the 2007 redesign, that was no longer officially used.
A new official chat is in development by PsychoGoldfish and it will utilise NG's usernames rather than the person making a new one up.
In the NG redesign of February 6th, 2012 brought a built-in chat to the site, which can be found in the top navigation bar's "Community" section.

In 2010, the Newgrounds Radio Chat was used for the Chat link but was later removed because of a request by the owner of the chat.
The Radio Chat can be seen at http://www.newgrounds.com/portal/view/537101
Even before Radio Chat there was a Newgrounds Chat run my Mr. MoneyBags (host of the Newgrounds President Elections( made Newgrounds Chat which ran off his laptop and home and was very bad quality. After it shortly failed he made Newgrounds Chat 09 which ran for a few months and was highly popular until it shut down. He then made Newgrounds Chat 2010 which he promised to keep for the year and was great quality but due to the spammers he deleted all 3 of them. Template:Cite
Community content is available under
CC-BY-SA
unless otherwise noted.