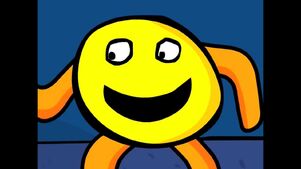 Mr. Happy Face is a 2004 Newgrounds animation submitted on August 5, 2004. It was submitted to the website by MrHappyFace, who would later in 2006 create a YouTube channel titled SecretAgentBob. Later named FilmCow, over 1.5 million YouTube users have subscribed to the channel. On April 7, 2008, Mr. Happy Face was uploaded to the FilmCow channel, and since has grossed over 8.2 million views.
Plot
A young child, later revealed to be named Timmy, is watching a TV show during a stormy night - obviously called Mr. Happy Face. Mr. Happy Face walks into the sunny grass scene and begins saying motivational children's show lines such as, "I love everyone!", and "La la la, la!" A lightning strike hits the house and Mr. Happy Face pops out of the TV screen and begins talking to Timmy.
Mr. Happy Face pulls out a knife and says he's going to cut Timmy's throat; to which Timmy obviously backs away and starts running away. Mr. Happy Face chases him and suddenly encounters his dog. Mr. Happy Face gets out his knife and proceeds to violently chop apart the dog. Timmy runs out of the scene, hides behind a corner and begins to cry.
Mr. Happy Face runs after Timmy and begins to violently chop him apart while he says pretty scary things - such as "Your blood is so sweet, Timmy!" and "Look how easily my knife is cutting you, Timmy!" Timmy eventually dies and the video ends.