"Monster Evolution"
Author:
shuwan cheng (wilsonbb)
Audio used:
Origin:
01/01/2009
Size:
634.6 KB
Score(As of 20 December, 2010):
4.24/5.00
Genre:
- Platformer - Other Action - Platformer - Other
Awards:
Author's comments:
Play as a monster. Create havoc, feed on humans, and evolve !!! A stylish game, with unique gameplay. 25 different type of monsters to evolve.

First game from Nob Studio for year 2009!

Control Arrow keys and Space Bar "P" to pause and evolve!

Tips Evolve to another monster of same level if you are low on blood!

Hope everyone enjoys it!

Happy New Year!

Over 100k! Thanks everyone for the support and feedbacks~ //------ ver 1.1 UPDATES ----------

FIXED LEVEL 5 MONSTER three headed dragon(heady) bug.

Easy Mode is even easier(requirement to evolve has been decreased)

Improved hit detection for some monsters

//------ ver 1.2 UPDATES ----------

Warning when your life is low

fixed Crocodily Bug(unable to eat green people)

changes in description for some monsters

//------ ver 1.3 UPDATES ----------

Edit some errors in description.

Improve on Shield Mode: only takes 1 damage from tanks and zeppelin. No damage taken from shooter and helicopter.

fixed bug on pause game resume life shows 1000.

//------ ver 1.4 UPDATES ----------

fixed bug :when life goes to zero before you could be warned(life below 10), game freezes.

Change in description: Tonguor the level 5 monster can eat people on the ground platform; stay still to eat(will have mouth animation!).

//------ ver 1.6 UPDATES ----------

fixed bug :when life goes to zero before you could be warned(life below 10), game freezes.

Time on submit score page should display correctly

improves on level 5 monster. Especially ballor, now has higher life, jumps higher and move faster

//------ IMPORTANT ----------

quite afew people feedback that the game doesnt work. It is because of the flash player version. This game requires flash version 10. Please update flash player here http://www.adobe.com/prod ucts/flashplayer/ if you have encountered any problems. Thanks~

pauly-walnuts mentioned that if you are using firefox and this game doesn't work, try turning off Adblock plus. Thanks pauly-walnuts.

Note
This information only refers to the official release on the Flash Portal.

Monster Evolution is a Flash Game in which the player must evolve their monster to conquer the world.
Design
[
]
Monster Evolution is based around choosing a monster to play as, eating people in a small city to earn points, and using those points to gain access to more powerful monsters. Before beginning the game, players choose one of three difficulty settings: Easy, Normal, or Difficult. Players start at the Evolution tree, where they can pick one of a few monsters. Each monster has different attributes and abilities, and monsters from further up the tree are generally more powerful. Once a monster has been selected, the player can go about eating humans until they are ready to evolve again. Depending on the evolutions the player takes, different monsters will become available. Meanwhile, more powerful enemies will appear as the game continues, forcing the player to evolve quickly to keep up. Once the player has finished evolving by consuming enough enemies, their total score is displayed.
Gameplay
[
]
Monster Evolution is controlled using the Arrow Keys and Spacebar. The right and left arrow keys are used to walk and the spacebar is usually used to attack, although there are some monsters where the spacebar is used to change modes. Depending on which monster is being used, the player can use the Up and Down keys to jump, climb up poles, or fly. The menu is accessed with the P key, and players use the mouse when in a menu.
Presentation
[
]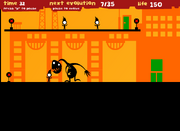 Monster Evolution uses only a few basic colors. Civilians are black and white, dangerous enemies are purple, the monsters are mostly black with the occasional yellow, red, and white features, the city's platforms and poles are all in black, and the background is mostly yellow and orange. This clear-cut color scheme makes it easy to distinguish threats and navigate around the city.
Reception
[
]
Monster Evolution was one of the first hits of 2009, and was featured on the front page a day after release.[1] As of December 2010, the game has over half a million views and an average review of 8.6/10. It is also featured in the Action Games collection.