Newgrounds staff and other users have been getting together at Meets for years. These gatherings are organised on threads on the BBS, often many months in advance. Hundreds of people have been to meets and this means that Newgrounders can put a face to a name and improves the sense of community. Meets take place in many cities in different countries around the world and some have become annual events. Many photos have been taken, with names tagged, and videos, which are then posted on You-tube or elsewhere on the internet. As well as general meets, there are Mod Meets, specifically for Moderators. Luis speaks of "Official" Meets, but Newgrounders also meet in less official ways and places- often spinoffs from the official Meets.
Meets Calendar
Edit
Many of the Meets are established as more or less annual; people are Meeting somewhere most months of the year. The Newgrounds wiki now has a page for Official Meets and Events.
Mod Meets
Edit
These were amongst the first Meets organised by Newgrounds and generally take place at the NG HQ in Philladelphia.
Philly 2007
Edit
London is a well-established venue for NG Meets, with some of the largest groups attending. The meets are at different times of the year.
London 2006
Edit
London, September 2007
Edit
London, 30th August 2008
Edit
London , January 14th 2009
Edit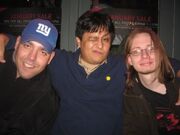 London , August 7th 2010
Edit
London, August 6th 2011
Edit
As Luis says at the beginning of the thread:
"Where: London, England When: August 6th, 2011 What: Annual gathering of NG users. Probably the largest of the meet-ups. There is usually other stuff going on days prior, stay tuned. You guys know the drill, bunch of people meet at the London Eye and then proceed elsewhere. Older users usually hang out beyond that and enjoy London nightlife etc."
There is a hub Webpage for info and Pix.
Melbourne
Edit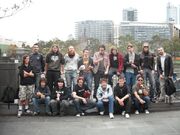 Community content is available under
CC-BY-SA
unless otherwise noted.