matt-likes-swords is a popular author on Newgrounds. He is best known for his Black Mages and Epic Battle Fantasy series.
matt-likes-swords's first movie on Newgrounds was Black Mages, a sprite movie. However, he immediately shifted to a more traditional art style. In 2005, Black Mages 5, the last entry in the series, won all three major awards: Daily Feature, Weekly Users' Choice, and Review Crew Pick. After being mostly absent from Newgrounds for a few years, matt-likes-swords came back in 2008, when he submitted three animations. One of them, Mecha Dress Up Game, won two awards and was one of the first games to have Newgrounds Medals.
matt-likes-swords often refers to his own work when making movies and games. For example, Natz from the Epic Battle Fantasy series closely resembles the White Mage from the Black Mages series. The same final enemy appears in both FF Battle and in the original Epic Battle Fantasy. matt-likes-swords also appears to be a fan of cats. The Kitten Game features cats as the only visible characters, and the Epic Battle Fantasy series also features a number of cats prominently.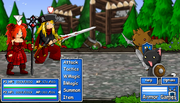 In addition to his many Flash submissions, matt-likes-swords is also an accomplished regular on the Art Portal. He uses a similar style to that found in his movies and games, and is clearly influenced by games like Pokemon and Final Fantasy. In total, he has won six Art Portal Awards, and has had one of his submissions, NG Tank, featured in the Newgrounds calender. His first Flash submission of 2010, a virtual Sketchbook of his drawings, also went on to receive the Review Crew Pick Award.
matt-likes-swords has become one of the more popular authors on Newgrounds. In total, he has received 17 awards for Flash, including eight Daily Features, two Review Crew Picks, and a Weekly Users' Choice Award.
Community content is available under
CC-BY-SA
unless otherwise noted.