"Mario Tetris: GM Edition"
Author:
DeadPixels
Audio used:
Super Mario World
Origin:
10/14/2005
Size:
4.3 MB
Score(As of 29 September, 2010):
3.89/5.00
Awards:
Daily Third
Author's comments:
Cheers for Front Page. I hope this Boosts my chances.

Okay, so this is an entry for GamesMaster Magazine UK. Its for the "We Love Games" Article, and I thought i'd give it a shot.

Its like the Previous Mario Tetris, but all the bugs have been fixed.

Expect Mario Tetris DX(Deluxe) to be released in 2006-07. The reason it's taking so long is because there is going to be 2 player mode, Survival mode and another secret mode which I dont want to tell. Plus im only a Teenager :D I do have school aswell.

Enjoy!

Note
This information only refers to the official release on the Flash Portal.
Mario Tetris: GM Edition is a flash game by DeadPixels. It is a clone of the classical video game Tetris, using graphics and sounds from the Mario series, especially Super Mario World.
Mario Tetris: GM Edition plays like a standard Tetris game. At the beginning of a game, players pick an initial speed for the action that takes place. Over time, the speed continuously increases. Players have to prevent a group of falling tetrads from reaching the top of the screen by organizing them in horizontal rows that take up the entire game area without any blank spaces. To accomplish this, they move and rotate the differently shaped blocks into position. Ultimately, the game is unbeatable, making reaching a high score the ultimate source of replay value.
Gameplay
Edit
Mario Tetris is controlled mostly using the arrow keys. Blocks are moved left and right using the left and right keys, are rotated using the up key, and can be quickly moved to the bottom of the screen using the down key. The Q key changes the game's technical quality, while the P key pauses the game.
Presentation
Edit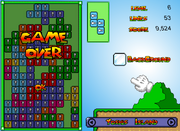 The most notable feature of Mario Tetris's presentation is that it's largely lifted from the
Super Mario
series by Nintendo. The tetrads are composed of the famous "!" blocks found in Super Mario world, and the dozen or so backgrounds that may be shown during the gameplay all come from the same game. The musical tracks and sound effects are a bit more varied, coming from games such as Super Mario 64 and conventional Tetris.
Reception
Edit
Mario Tetris: GM Edition has been viewed over 475,000 times, falling somewhat short of DeadPixels's earlier Mario Tetris 3. Additionally, it has an average review of 8.2/10 and is featured in both the Mario and Puzzles collections.
Community content is available under
CC-BY-SA
unless otherwise noted.