"Happy Madness Day 2019 everyone!"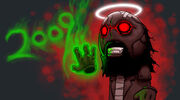 Madness Day
has been celebrated every September 22nd since 2007.  It celebrates the
Madness
series by
Krinkels
.  The original Madness Day had over 200 entries, but recent years have shown less activity.
Madness Day 2007
Edit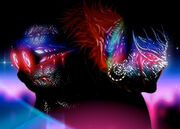 This was the original Madness Day, and by far the best receieved. Over 200 flashes were submitted. Ten movie submissions were "Krinkels Approved." They, along with three other movies, got $250 prizes. Two games also got $250 prizes. Madness: Deus Ex Machina by Proxicide was the overall winner, and was called "overlooked" and "insane" by
Tom Fulp
. This was also the day when Hank was added to
Newgrounds Rumble
.
Madness Day 2008
Edit
The winner this year was Madness-Confabulation by alienslushie, followed by Madness: Bar Brawl and Three Guys and a Tree. These won $1000, $750, and $500 awards respectively. Seven other flashes also won $250 awards, and five others got $100 bonus prizes. The first place audio submission was Hank's Return. With My Mind's Madness by Mindchamber was heavily praised by Krinkels, but could not receive an award since it was made by Newgrounds staff. Tom Fulp and Mindchamber also submitted Madness Regent, a Run 'n Gun game, to mark the occasion.
Madness Day 2009
Edit
Madness: Rising by Proxicide won first place this year, followed by Madness Duel, Life in Portal: Madness, and Madness: Mad Revenge. They won $1000, $750, $500, and $250 prizes. Six other entries got $200 prizes. The best game was Madness Deathwish 2, which won a $200 prize. Madness Accelerant was also released on that date, and an alternate control scheme and difficulty setting would be added a few days later.
Madness Day 2010
Edit
This Day had received quite alot of reception. This year broke the record for the most Madness Collabs and was when the ending episode to the Madness Zombie Trilogy, Dusk Of The Dead, was submitted to Newgrounds. It also produced the third long awaited episode of Xionic Madness.
Madness Day 2011
Edit
Many great submissions this year, with notable ones being Micmadness, Madness Heist, [MD 2011] The Magician, and Incident:010A.
Madness Day 2012
Edit
Madness Day 2013
Edit
Madness Day 2014
Edit
Community content is available under
CC-BY-SA
unless otherwise noted.