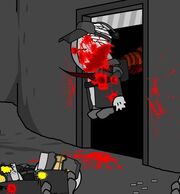 Madness Combat 9, also called Madness Aggregation, is the ninth official entry in Krinkel's Madness series. It was released on March 15, 2009 and has a run time of 5 minutes and 11 seconds, or 10,269 frames.
Plot Summary
Sanford and Deimos are driving along a canyon when they are attacked by the 1337 Crew. They sucessfully defend themselves, but see an explosion in the distance. At the scene, they find a dead Hank and the Auditor waiting for them. The auditor takes Savior's broken Halo and puts it on his head before pursuing them. While Sanford and Deimos are infiltrating a base filled with the 1337 Crew, Auditor storms to a new MAG agent, possessing and killing ATP agent in his path. Sanford and Deimos eventually enter the facility, but are followed by possessed agents. Deimos heads into a room with Hank while Sanford fends off the two agents. Deimos is shot, but not before putting Hank into the restoration chamber. Meanwhile, Sanford is outside fighting the 1337 Crew, and is eventually reinforced by a now mutated Hank. Hank then fights the Auditor and MAG agent, and kills the MAG agent. The Auditor absorbs the dead bodies on the ground, and the screen goes dark and the words "To Be Continued" appear.
Reception
Madness Aggregation has had over 750,000 views. The average score is 4.40/5 and the average review is 9.6/10. Madness Combat 9 has also won three awards: Weekly Users' Choice, Review Crew Pick, and Daily Feature
Community content is available under
CC-BY-SA
unless otherwise noted.