Liljim


Real Name:
Birthdate:
1977
Profile:
Liljim
Alts:
Aura:
Blank Slate
Level:
Level 27
Whistle:
Gold
Blam/Protect Rank:
Police Officer
Flash:
Queers of War
Audio:
Title Menu

liljim is a staff member on Newgrounds who is based in the UK.
liljim is alive and well.
liljim's Movies
Edit
Even though he is more known for his administration on Newgrounds he is popular for some of his movies. liljim has a few movies, including high ranking collaborations, including Queers of War and Mr Flacit's Word Search, but if his basic solo movie, Non-Hooded Prawn is anything to go by, has little animation ability himself.
liljim's Music
Edit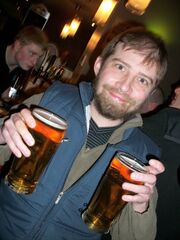 He has a number of high-ranking music submissions on the Audio Portal.
Change of Level Icon
Edit
Luis created a thread telling us that Liljim is stubbly and wears glasses. While discussing this he changes Liljim's custom icon, adding glasses, a stubbly beard and a wafting stench. The stench might also be a reference to the popular topic liljim is poopy on the BBS, which liljim apparently found funny.[1]

However, this icon hasn't been used since the 2012 re-design.
Newgrounds Links
Edit
liljim's User Page liljim's Movies
Community content is available under
CC-BY-SA
unless otherwise noted.