Joseph Blanchette, originally known as LegendaryFrog was a popular Flash author and member of animation group Toonwerks.
Since 2002, he had become well known for creating animated video game parodies, as well as original works such as Ark and Kerrigan. Most of his 50 movie submissions have won awards, some of them receiving Weekly User's Choice and Review Crew Picks.
Though he has largely been forgotten by newer users, he could be considered as one of the first popular Newgrounds users to create video game parodies, before being usurped by Egoraptor who created work that was very similar in subject matter.
Despite his present obscurity to newer users, LegendaryFrog continues to remain the eighteenth most popular user, although this has not stopped several groups from creating a variety of parodies of Blanchette's animations and aesthetic.
He has been totally inactive since 2018, though now hosts a small Dungeons and Dragons podcast on his YouTube channel. In similar fashion to Egoraptor, Blanchette is considered a fairly controversial creator due to his dismissive attitude towards Newgrounds following his departure, though his fall from grace was much less public.
Work
[
]
Parodies
[
]
LegendaryFrog was mostly known for creating animations based on popular video game franchises, such as the Legend of Zelda and Final Fantasy series. Some of these videos, such as FF Tribute - Chocobo Song were extremely popular in the early years of Newgrounds. The majority of these parodies poked fun at specific sequences, characters, and events within the subject matter.
He has also made a handful of movie parodies, such as One Ring to Rule Them All and The Matrix Has You. Similar to his video game parodies, these largely centered on in-jokes and specific situations from the material he parodied.
It is noteworthy that LegendaryFrog's video game parodies preceded those of more popular users, such as Egoraptor, despite their obscurity. He was commonly heralded as a figurehead of Newgrounds users' obsession with media parodies in the site's early days due to his frequent parodies, and the abundance of video game references he inserted into his original works.
Original Works
[
]
LegendaryFrog's most recognized original series is Kerrigan, a loosely science-fiction centered episodic series which depicts the life of the title character and her boyfriend Ark. Kerrigan enjoys muffins and chocolate, which are commonly used comedically within the series. Notably, some of the animations featured clocks which would display the real time, and some less important segments would be randomized when playing the movie.
As was commonplace with his animations, however, the Kerrigan series still features a variety of video game parodies sprinkled throughout it.
It is also noteworthy that the series was extremely inoffensive during a time when purposefully offensive and edgy content and was at its most popular on Newgrounds, making it nearly universally accessible at a time in which most of the site's content pushed boundaries.
Legacy
[
]
LegendaryFrog contributed significantly to early Newgrounds culture, with animations like The Matrix Has You having important cultural significance for being one of the first large-scale collaborations. Due to the generally inoffensive nature of his content and heavy reliance on video game references, it is also arguable that Blanchette introduced several younger users to Newgrounds during its earlier years.
However the biggest impact LegendaryFrog has had on Newgrounds is ironically his position in the site's early community as a "butt monkey":
During the time of Blanchette's activity, a strong disdain for video game parodies grew amongst some of Newgrounds' more popular users and groups at the time, such as Star Syndicate, who argued that these works required little effort and were consistently given unfairly high ratings. Blanchette also frequently relied on the "tween" tool, which was often seen as lazy and visually uninteresting, and his style of humor was heavily criticized due to claims that various jokes from his animations were recycled from external media. In addition, a handful of groups were created in the site's early years who focused heavily on parodies of Blanchette and his work, such as Star Syndicate and The Piconjers who would often parody the low effort of Blanchette's animation style.
Criticism
[
]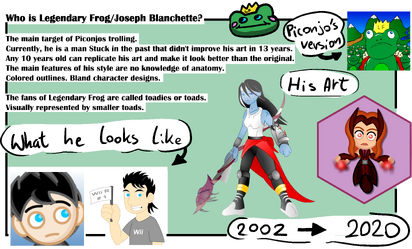 Blanchette's aesthetic has been criticized heavily due to it's unappealing visual style, largely centring on the use of tweened circles and unappealing coloured outlines. His lack of understanding of anatomy is also commonly critiqued.
His humour has been heavily criticized for its lack of focus and slow pacing, and his poor audio quality has also been criticized.
Above all else, however, LegendaryFrog has been most heavily criticized by users for what some perceive as his very inflated ego, as it has been pointed out by many that Blanchette is seemingly unable to cope with jokes made at his own expense, with the most popular examples being the Piconjo series, which frequently mocks Blanchette and his submissions.
Relationship to Piconjo
[
]
According to rumor, LegendaryFrog lacked skill in Flash, thus Piconjo assisted on most of his earlier works. It is alleged that, due to Blanchette never crediting Piconjo properly, a series of flash animations which ridiculed Blanchette and his submissions were created. This culminated in an animation by Piconjo which one-upped LegendaryFrog's animation style.
Comments by Blanchette on the subject of Piconjo have been very infrequent, though it is alleged that he enjoyed Kerri's Bigger Invention, a parody of his Kerrigan series by the Piconjers.
He directly commented on Piconjo once when prompted about the possibility of a collaboration for a future Piconjo Day site skin, claiming that due to the harassment he faced, he was "unlikely" to engage in such a collaboration.