Krinkels is the Newgrounds username of Matthew "Matt" D. Jolly, a flash artist who is most famous for creating the Newgrounds phenomenon of Madness. He was born on Thursday, June 4, 1981, and joined Newgrounds on December 18, 1999. He puts in hundreds of hours into each Madness project, on top of college work studying computer science, and working as a security guard.
Flash
[
]
Krinkels is one of the better known makers of action animations on Newgrounds. His first series, "Breadman" featured a cartoonish protagonist being killed in a variety of ways. However, starting with 2002's Marsh-Mellow-Madness and Madness Combat, Krinkels has become famous for his Madness series, which has become one of Newgrounds's most popular. The Madness movies typically feature characters in a monochrome environment fighting violently using a variety of weapons. In total Krinkels has submitted over fifty flash animations and games, including the eleven main Madness movies, several comedic spinoffs, and several collaborated efforts including the games Madness Interactive, Madness Accelerant, Madness: Project Nexus Classic, and the more recent, Madness: Project Nexus 2. (now called Project Nexus)
Krinkels and Newgrounds
[
]
Matt has been to Comic Con multiple times and met up with Newgrounds staff there as well as other people. He maintains a large website, which connects to the Newgrounds store as well as his own Madness merchandise site. Whilst his animations etc appear elsewhere on the internet, such as YouTube, Krinkels maintains his strongest links with Newgrounds.
Reception
[
]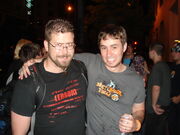 Krinkels has won up to 99 awards, including 23 Weekly Users' choice awards and ten Review Crew Picks. His Madness Series has had an official day on Newgrounds, Madness Day, every September 22nd since 2007. His various flash submissions have a combined total of over 42 million views.
Newgrounds Admin
[
]
Krinkels became an Icon Moderator in 2011.
External links
[
]