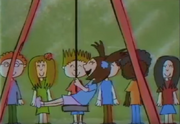 A young girl named Kayleigh, "Narrated by John C. Roberts
Created by Callum Bowen"Happy Halloween everyone. This short is influenced by the really old British children s TV shows from the 70s/80s (Mr Benn, Bagpuss, Clangers etc), Aswell as those "lost episodes" which have been done lots to the point where every show has a "lost" episode.
The quality is purposely bad because it is meant to be from a vhs and the animation is simplier than my previous work because of the limitations back in the day for most shows ( Mr benn barly had any animation at all!)
I hope you enjoy Kayleigh's adventure to the park!
https://www.newgrounds.com/portal/view/665227
Community content is available under
CC-BY-SA
unless otherwise noted.