JohnnyUtah, also known as Jeff Bandelin, is a Newgrounds moderator and Staff member. He is also well-known for creating the Tankmen series and 300 Queers. He has also collaborated to create other movies and games, such as Ching Chong Beautiful, K-Fed: Dancing With Fire, and Pico Epilogue. Furthermore, JohnnyUtah has also contributed to the MGS: Flash and Street Fighter Collabs. In total, he has won over thirty awards, including five Weekly User's Choice awards. He is also a contributor to the Art Portal, and has made several award winning pieces. In 2000, he graduated from Kutztown University and became an NG staff member in 2006. Like many other Newgrounds moderators, He can also be found on Xbox Live, with the Gamertag: JohnnyUtah NG
JU first submitted Flash in 2005 and as of Jan 2010 has 20 to his name as well as 34 Portal Awards. His submissions have been viewed over 4 million times. He is somewhat famous for his creation of Tankmen and he helped make Cogs Of War.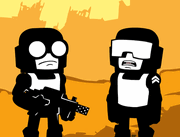 JU has submitted a string of pictures, mostly heads of some sort from human to monster, some of which have been scouted.
Staff Member
Edit
JU won NG's Opie & Anthony competition and became a staff member in 2006. He works as a staff artist and animator.
Community content is available under
CC-BY-SA
unless otherwise noted.