The International Moron Patrol (or I.M.P) is a popular flash series that made their debut on Newgrounds on November 16th 2003 created by Dutch Flash animator Roger Van Der Weide.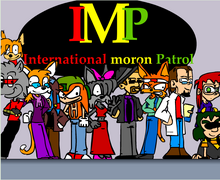 The animations evolve around a team of heroes that, in practice, are meant to save the world, but in reality, are rather lazy or incompetent, and not usually too keen on getting down with fighting.
I.M.P is known for it's incredibly outrageous parodies, cultural references and crazy story lines. It hasn't reached the high stakes of many other well known Flash animators but has become a cult hit with the fans.
In 2007, Episode 28 was featured on the front page of Newgrounds and winning a "First Place" award, making it finally have it's own collection.
The Team
[
]
The International Moron Patrol team are a group of super heroes that have proven on many occasions to be too lazy to full fill their duties, or wildly distracted with their own personal problems such as playing video-games, running out of ice cream (a common running gag, especially in the earlier episodes) etc,
Origins of the team
[
]
After looking for (and failing) at getting into various jobs, Roger looks into a race that is being held, where the winner who wins the race would win a mansion and could "start a superhero team or something." After Roger's surpirsing finish, he goes to his mansion where he decided to make a superhero team, and puts up ads around Itty City in the hopes of forming a team.
The original members who join the team are Hentai Boy, Henrik, Bustin, John, and Zody. At first, Hhog doesn't want to join his stupid team, but John coinvinces him when he reads on that they stop enemies, comfort girls when they're lonely, and kill smurfs.
LINKS

[

]
https://www.facebook.com/groups/internationalmoronpatrol/