I-Bot
is one of the six
Newgrounds Bots
that help Newgrounds with different assignments. Although they are simply bot programmes on the computer, each is given a persona, including a picture and a user page on Newgrounds, which lists their functions and may have messages from the bot. Each is characterized by having a different aura.

I-Bot's Functions
Edit
I-Bot helps users filter and sort Art Portal submissions, and pick each day´s winning works of art. The Art Portal is a recent addition to Newgrounds, and I-Bot works in it, so maybe in the future more tasks will be assigned to him.
According to his Userpage: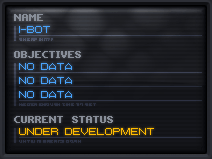 As of June 2010, a note under the box says "Development nearing completion"
I-Bot submitted the first art to be scouted into the Art Portal. His art is a simple drawing of a man sitting by a bonfire made in a notebook.
I-Bot on the BBS
Edit
I-Bot occasionally makes posts on various threads on the BBS, always beginning his comments with "My robotic sensors indicate that..."
External Links
Edit
Community content is available under
CC-BY-SA
unless otherwise noted.