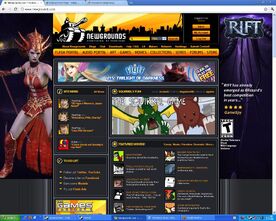 The front page of newgrounds is one of the main communication centers of the entire website, it contains content that the admins like, including audio submissions, flash submissions, and art submissions. It also contains important news posts from the admins, and top rated submissions that are posted by P-bot on a daily basis.
This page also contains links to newgrounds' Twitter, Facebook, and Youtube websites, as well as an additional link to the area that houses all games with medals on the site. It also contains a listing of the most recently uploaded flashes that have been put on the portal.
Community content is available under
CC-BY-SA
unless otherwise noted.