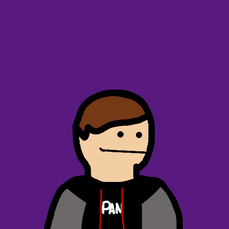 Fenixshifter is a content creator that creates animations for Newgrounds. He Said that he is very inspired by DasBoSchitt, Alan Becker, Tom Fulp, and Kitty0706. He's join date was August 11, 2020. He is most well known for Muscle man gets space jammed, The Handsome Squidward Collab, Isometric Room Collab, and Every Regular Show Episode.[1]
History
[
]
Fenixshifter joined Newgrounds after there was a fire in his area, and he had to evacuate to a family members house. He had heard of Newgrounds, but never had the thought of joining it until he decided to upload a MS paint drawing while he was bored in the family members living room. He later found out about a user by the name of MichaelIsVeryVintage and was inspired to make Gmod machinimas and upload them to the website. He then a year later decided to switch from Gmod machinimas, to 2d animation. He has now been animating in 2d since April 11th, 2021.
Movies
[
]
Fenixshifter has made and voice acted in 13 movies. The names of his movies (In order of when they came out) include: Joker and Skeletor Ep 1: The 7:11 Robbery, Joker and Skeletor Ep 2: Jokers antics, Joker & Skeletor Ep. 3 : Among us., Gmod news, The lametrix: A dumb parody, Sonic (movie final battle) - but way past worse, Muscle Man Gets Space Jammed, Joel Roasts An Admin (Animated), The Two Faces of Squidward Reanimated Collab, Joker & Skeletor Ep. 1: The Remake, Every Regular Show Episode, and The FBoy Hitman | Episode 2.