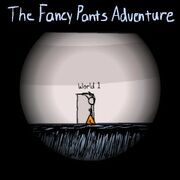 Fancy Pants is a series of platforming flash games created by Brad Borne. They feature a stickman known as Fancy Pants Man, who is minimally drawn other than his spiky hair and colored pants. The first game, World 1, was submitted March 14, 2006. The demo for World 2 was submitted March 13, 2007, and the full version was submitted January 17, 2008
Gameplay
[
]
The games are unique in that they have interactive menus. The games play similarly to other traditional platformers, including running, jumping to attack, and wall jumps. A bar on the top left corner of the screen shows health, which can be restored by collecting swirls. Collecting 100 swirls grants an extra life. Bosses appear at the end of each world, and are the focus of the minimal story. Both games have collectible trophies that improve replay value, and World 2 features different pants colors that can be collected.
Reception
[
]
The Fancy Pants games have been critically sucessful and popular on Newgrounds. World 1 and 2 have over 1.4 and 1.2 million views. The average scores of 4.31/5 and 4.39/5, and average reviews are 9.4/10 and 9.7/10. The series has won seven awards thus far, and World 2 won Game of the Year at the 2008 Tank Awards. Fancy Pants Man was a playable character in the previous year's winning Game, Newgrounds Rumble. Both main games are included in Flash Portal History.
Future
[
]
Brad Borne announced that World 3 is in development, and would enter the beta stage in mid-2010. Swimming was planned, along with a new character, Cutie Pants Girl, and a pencil weapon similar to the one found in Newgrounds Rumble. In November 2010, however, a Fancy Pants game for XBox Live Arcade and PlayStation Network was announced, and was planned for release in the spring of 2011.[1] The game will be published by Electronic Arts. World 4 is in development and Brad has made some Report videos on his YouTube channel ands on his website BorneGames where you can also find the World 1 Remix. It's basically a mush better game with many of the new thing that are going to be in the final version of World 4.
Film Adaption
[
]
A movie has been confirmed to area residents. Fancy Pants has describe that movie. Confirmed this morning have following to box office theatres like Mayness Madness and Judge of the British. It also has distribution by 20th Century Fox with TSG Entertainment, Chernin Entertainment, Newgrounds Entertainment, Animal Logic, and Denver and Dellilah Productions. It also has confirmed that added this cast like Bob Odenkirk(Mr Fancy Pants), Charlize Theron(Elizabeth Pants), Taylor Swift(Ms. Cutie Pants), Christopher Lloyd(Bobble Head General), Sam Worthington(Captain Manly Beard), Dwayne Johnson(Alien Hominid), and Bobby Moynihan(Mayor). This movie has been a same director of Avatar named "James Cameron" with the created by Brad Borne. It based off this game of 90s. It is also starts this movie in 2024 with the TIFF of November 2026.