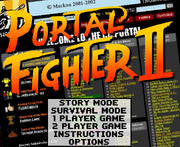 Endless Handbag Loop
is arguably the theme music for Newgrounds. It is an eight second loop of electronic music, with an eight note melody. The song would automatically play when a user opened the main page. It is used in over 100 Flash submissions.
Reception on Newgrounds
Edit
The creator, FDA submitted it to Newgrounds in 2003, where it has been downloaded over 3,700 times and played over 40,000 times. Despite its popularity, it is ranked as the 759th most popular track on Newgrounds. Today, it is commonly used in movies and games on Newgrounds. Perhaps its most notable statistic is the review score of 9.8 after over 300 reviews. One version alone is heard in over 105 Flash submissions, in everything from games and quizzes to hentai.
Newgrounds Related
Edit
As a tune associated with Newgrounds itself, it is often used for Newgrounds related subjects, such as tutorials. The popular game Newgrounds Rumble, which won the 2007 Tank Awards, featured a theme song with elements of the Endless Handbag Loop.[1][2]
Community content is available under
CC-BY-SA
unless otherwise noted.