"Doom Triple Pack"
Author:
mike
Audio used:
N/A
Origin:
11/22/2008
Size:
10.7 MB
Score(As of 11 June, 2010):
4.39/5.00
Awards:
Daily Feature

Weekly Users' Choice

Author's comments:
====DOOM TRIPLE PACK====

Doom, Heretic, and Hexen -- The demo version of three remarkable games are now playable in your browser!

NOTE!!!

THIS GAME REQUIRES FLASH PLAYER 10. If the game doesn't display, update your Flash Player here: http://www.adobe.com/go/getflash

IF THE GAME IS RUNNING SLOW, try clicking POP-UP to open the game in its own window. This will especially help Safari Mac users!

Unfortunately, this game will NOT work on PowerPC Macs.

---CONTROLS--- W, A, S, D - movement Click screen + drag or LEFT/RIGHT ARROWS - turn SPACE - fire R - use door/switch SHIFT - run ESCAPE - menu TAB - map NUMBER KEYS - change weapon [ and ] - cycle through inventory (Heretic/Hexen only) ENTER - use inventory item (Heretic/Hexen only) Q - Jump (Heretic/Hexen only) You can also customize the keys in the Controls menu!

Note that the medals will NOT unlock if you use cheat codes.

---UPDATES--- 05/09/09 - All the medals and savegames should be working! 05/07/09 - Massive update, bug fixes, Heretic + Hexen! 11/23/08 - Controls changed to avoid sticky keys. 11/22/08 - Much better sound playback, and minor speed improvements!

Sorry, no music. :( Doom is copyright id Software. Thanks id! Heretic and Hexen are copyright Raven Software. Thanks Raven! Recompiled from the original sources by Mike, using Alchemy! Thanks Adobe! http://labs.adobe.com/technologies/alchemy/

Note
This information only refers to the official release on the Flash Portal.
Doom Triple Pack is a flash game programmed by Newgrounds admin mike. This game is a direct port of the classic PC games DOOM, Heretic, and the Hexen demo. As stated, this is an absolute direct port of the original games. The graphics, game play, maps, and everything else is the same. Even the cheat codes for the original game work in this port. This game includes nine medals, totaling 320 points.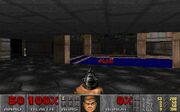 The game was created for donation and raised over a hundred dollars and most likely counting for some sort of donation to flash artists or the Newgrounds Store it was not quite clear what he was raising money for but it had worked and even Tom Fulp praised it as a success.
Similarities to Doom
Edit
The first one was a complete copy of the first Doom which really reeled in the Doom fans while the 2nd and 3rd chapter was made up of it's own storyline by Mike. It was said there would be a high score game or some sort of points system for it like in the actual Doom series. Mike says he is hoping to make a game including Doom 4 related things in the game.
Reception
Edit
The game is very popular on Newgrounds. It has over 1.5 million views, over 24,000 votes, and over 1700 reviews. The game won the Daily Feature and Weekly Users' Choice awards.
Community content is available under
CC-BY-SA
unless otherwise noted.