"Domo-Kun Angry Smashfest!"
Author:
Mockery
Audio used:
N/A
Origin:
12/16/2002
Size:
1.6 MB
Score(As of 11 April, 2011):
4.18
Genre:
- Fighting - Brawler Action - Fighting - Brawler
Awards:
Weekly Users' Choice

Daily Feature

Author's comments:
Here it is. Four months of work between myself and Tom Fulp, all put into one big flash game. This project was originally just going to be a simple one-level game, but it grew into something much more complex. Creating the game in a stream-of-consciousness, we were constantly adding new elements to it. Every time we thought it was "a wrap", we'd come up with something new to add. So, it's pretty safe to say that if creating this game was an exercise in self-restraint... we both failed miserably! (but that's a good thing)

Each level has varied play mechanics, but you can always control Domo-Kun using the arrow keys to move and the 'A' key to attack. So turn on your sound, and prepare to control the most powerful and intimidating force in the universe: DOMO-KUN!

Note: We've thoroughly tested the game for bugs and think we've caught 'em all. However, should you find a bug, don't hesitate to report it to us!

Note #2: Thanks to everybody who has shown such great support for this game! Both of us really appreciate it and we're glad you're all having so much fun with it. And for those of you playing more than once, YOU CAN SKIP THE INTRO IF YOU DON'T WANT TO WATCH IT AGAIN SIMPLY BY PRESSING "A" AS DOMO RISES UP! And yes, that dramatic music is by power metal band, "Stratovarius"! \m/

Note #3: For those of you having trouble defeating the notorious "Red Knights", they're really much easier than you think. First off, don't attack them head-on. They have long swords and Domo has a short stick. You have to come in from above or below them and then just whack away just before they're on top of you (same strategy works on Death Adder). Also, if you can hold onto the fire-breathing dragon that you find earlier in the level, it'll make short work of those knights. Tons of people beat the knights on their first try, so keep practicing, you'll beat 'em sooner or later!

And if the game isn't loading for you here due to all the people playing it on the NG server, you can also play it at: http://www.I-Mockery.com/ minimocks/Domo

Note
This information only refers to the official release on the Flash Portal.
Domo-Kun Angry Smashfest! is an arcade type game with different play mechanics on each level. It was created by Mockery and Tom Fulp in December of 2002.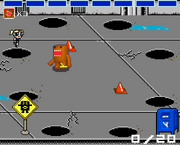 You play as Domo-Kun from the Japanese TV channel NHK and try to take down the Powerpuff Girls from the Hanna-Barbera cartoon of the same name. It starts out as a sidescrolling brawler game, but then turns into a horizontal shooter. From here it changes every level. The controls are the same for each one, use the arrow keys to move Domo and press the A key to attack.
Patience - Sit through the long-ass intro - 5 points
Backstory - Discover the backstory - 10 points
Dance party - Get invited to the dance party! - 10 points
Domo hunt - Find the hidden game - 10 points
Fat bastard - Bring out the fat man - 10 points
Giant crab battle - Encounter the (kinda) giant crab - 10 points
Gojira - Make a new friend! - 10 points
Squigly fish - Find the Squigly Fish - 10 points
The boy - Dispense of the boy - 10 points
The girl - Dispense of the girl - 10 points
Dragonslayer - Slay the dragon without getting hurt! - 25 points
Zero vengeance - Beat level one without getting hurt - 25 points
A smasher is you - Beat the game! - 50 points
Dongle - Youll know it when you see it! - 50 points
Fast smash - Smash the car in 20 seconds or less - 50 points
Penguin popper - Destroy 90 penguins - 50 points
Three eddies - Bring at least three eddies to battle! - 50 points
Secret Medal - It's a secret. Shhhhh... - 10 points
Secret Medal - It's a secret. Shhhhh... - 25 points
As of April 2011 it has roughly 2.3 million views and an average review score of 8.9. It recieved the Weekly Users' Choice and Daily Feature awards. It is in the Action Games, Flash Portal History: 2002, and Power Puff Girls collections.
Community content is available under
CC-BY-SA
unless otherwise noted.