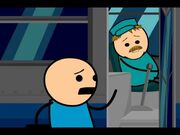 Cyanide and Happiness is a comedy series created by the C&H comedy team which is based on Explosm.net and submitted through the Explosm account. Their series of flash shorts are all top-scoring and many have appeared in the Portal Top 50.
Style
[
]
Cyanide and Happiness cartoons on Newgrounds range from as few as 30 seconds to as long as a few minutes. Typically, one or more unnamed characters will encounter an unusual situation, which leads to humor and pain on the characters' part. Typically, the series has a very dark sense of humor, and violence is very common throughout the series. Furthermore, matching with their anonymous identities, characters are simply drawn, even when in complex environments. The music is often very jolly and the credits are always rolled by quickly.
Reception on Newgrounds
[
]
In total, as of April 2010, each of the 12 entries in the series has won at least one award, and a total of 24 awards have been won, including nine Daily Features, five Weekly Users' Choice Awards, four Review Crew Picks, and a Tank Awards nomination for Waiting for the Bus! However, a number of Newgrounds users feel that the series is overrated, due to the simple art style and humor. [1][2]
The Webcomic
[
]

Cyanide and Happiness is a webcomic series created by Kris Wilson, Rob DenBleyker, Matt Melvin, and Dave McElfatrick, and hosted on Explosm.net. The webcomic has over 2000 issues and is viewed by over a million people each day. The style is very similar to the animation on Newgrounds.[3]