"Crush the Castle"
Author:
Joey Betz (joeybetz)

Con-Artists

Audio used:
N/A
Origin:
05/04/2009
Size:
2 MB
Score(As of 16 January, 2012):
4.42/5.00
Genre:
Artillery
Awards:
Daily 2nd Place
Author's comments:
**REQUIRES FLASH 10 TO PLAY**

The King has ordered you to crush all resistance in order for his kingdom to survive. Crush castle after castle by wiping out all of it's inhabitants with a powerful Trebuchet and an arsenal of 8 different projectiles.

Produced In-House by Armor Games Inc. Programmed by Joey Betz. Art by Chris "Con" Condon. Testing/Levels by Dan, Larry, John, and Dim (SuperFlashBros).

Inspired by Liam Bowmers (Castle Clout author), used with permission.

Note
This information only refers to the official release on the Flash Portal.
Crush the Castle is an artillery game. The player must use a trebuchet to destroy a number of castles and kill the residents of those castles.
Design
[
]
Crush the Castle has 24 levels, which must be played in order. However, after beating a level, the player is allowed to replay it anytime they choose. The goal of each level is to kill every character inside a castle. Castles are made of a large number of smaller pieces, and are completely destructible. Depending on where stones hit, the castle can remain unharmed or be entirely destroyed. Humans can be killed by being crushed, being thrown by the shock waves, or hitting another character. Every few levels, players get new forms of ammunition, including bigger and multiple stones to fire. The game also features a level editor.
Gameplay
[
]
Crush the Castle's chief antagonist is the lack of ammunition. Players can only launch projectiles each round, after which they must either give up or try again. Players activate the trebuchet by clicking the screen and click again in order to fire. Timing is essential, as a moment's difference can either send a projectile into the castle or straight into the ground.
Presentation
[
]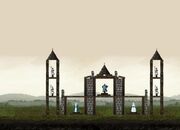 Crush the Castle has a fairly modest presentation. Castles consist of a few recycled pieces, and there are only a few different kinds of people and backgrounds. There is also very little music. However, each part of the castle is easily distinguishable, making it relatively simple to see how the castle is built.
Reception
[
]
Initially, the game only received the Daily Second Award. However, as of January 2012, it has received over 1,250,000 views, and has an average review of 9.3/10. The game is ironically featured in the Defense Games collection, and was a nominee for the Tank Awards. A sequel, called "Crush the Castle: PP," which included player-made levels, was submitted in September, and was similarly well received. Another sequel, submitted to Newgrounds in 2010- "Crush The Castle 2" - was a big hit with Crush The Castle fans.