Christmas is one of the major Holidays on the Newgrounds Calendar. There is a main Collection for Christmas and separate Collections for each year since 1999. There are competitions every year with cash prizes for Flash submissions.
Due to the lack of an automated Flash Portal, 1999 was a mostly barren year, with one exception: FDA: Santa Dogg. Since its resubmission to the Flash Portal in 2005, the movie has had over 73,000 views.
The automated Portal's first Christmas was met with a variety of submissions. Several, such as Kill Santa!, The Gritch , and Shopping Mall Nightmare! received hundreds of thousands of views. Roast Santa, an interactive movie in which the viewer turns up the gas in a chimney where Santa is stuck, shares an icon with the Christmas 2000 collection.
As the first Christmas after the collapse of the World Trade Center , the users would mix terrorist themes into some of their Christmas flashes, much like they did with the 2001 Halloween collection. Bin Laden's Christmas is an example of this.
There was a Flash competition and a Monthly Audio Portal competition in October for Christmas Themed music.
There was a Flash competion with 12 cash prizes, topping at $1,000. As usual, a Christmas Collection for 2009, including the major hit Snow Snow for Lucy.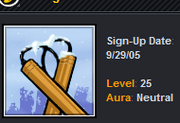 In 2010, the Level Icons and Staff Icons were changed to a seasonal snowy and/or Christmas theme. The winners of the Winter Flash Off were not announced until February 2nd 2010 and there were only four prizes handed out. The winner of the Winter Flash Off was Zanta Claws III.

Community content is available under
CC-BY-SA
unless otherwise noted.