Castle Crashers is an Xbox Live Arcade game developed by independent game developer The Behemoth. The game was announced in 2005 and was released on August 27, 2008. It was the best selling Xbox Live Arcade game of 2008, and as of August 2010, has been downloaded over 1.8 million times. A PlayStation Network version of the game was released on August 31, 2010. The game was available on PC (Windows) and Mac OS via Steam in September 26, 2012.
Gameplay
[
]
Castle Crashers is a side scrolling beat em' up game with RPG elements. Players can play different levels using the world map screen. Once a level has been completed, it can be replayed at any time. Levels include linear paths from the left to the right, shops, arena matches, and boss fights. Enemies can be fought using melee weapons and magic, which uses a regenerating bar for power, and animal orbs can be unlocked to provide enhancements. When a player dies, they can be revived by a teammate, who can use CPR. Experience points can also be earned and used in order to level up various attributes. Players can level up their characters to level 99, although there are glitches that can be exploited to go up to level 256. The game also features local and online cooperative play. There are also two minigames: Arena, where the player tries to survive waves of enemies, and All You Can Quaff, a button-mashing game where the player eats as much food as possible.
Characters
[
]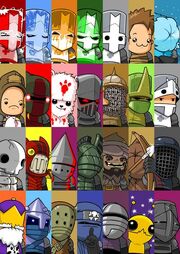 Castle Crashers includes 28 playable characters. Of these, only four, the iconic Red, Green, Blue, and Orange Knights, are playable from the start. Defeating the Husky Barbarian early in the game allows players to use the Grey Knight, who can in turn be used to unlock Stove Face. Five other characters can be unlocked by participating in the arenas, and four characters can be unlocked by playing as them. Alien Hominid is also a playable character, but can only be unlocked by having at least one achievement in Alien Hominid HD. Six more characters were also released in various Packs.
Connections to Newgrounds
[
]
The game was programmed by Tom Fulp and the art was done by Dan Paladin. Music was created by Newgrounds members. Castle Crashers is also the frequent subject of parodies and tributes, including Castle Crashing the Beard, a Tank Award nominee. Additionally, a Collection dedicated to Castle Crashers was created.
Reception
[
]
The game currently has average scores of 82 and 85 on Metacritic for the Xbox 360 and PlayStation 3 respectively.[1][2] Critics applauded the classic design, fun multiplayer, and great visuals. However, the game was criticized for technical issues upon launch, which necessitated a patch on December 24. In 2009, IGN listed it as the 4th most essential XBLA game, after Peggle, Splosion Man, and Shadow Complex.[3] On a 2010 list, the game was rated #5, suggesting it held up well two years after release.[4]
External Links
[
]