"Burrito Bison"
Author:
JuicyBeast
Audio used:
Brian Holmes
Origin:
02/17/2011
Size:
8.4 MB
Score(As of 29 May, 2010):
4.45/5.00
Awards:
Daily Second

Weekly Third

Author's comments:
This simplistic game uses nothing more than the left mouse button. The goal of the game is to launch Burrito Bison and smash through the three giant gates to escape Candy Land.

You do so by bouncing on escaping gummy bears and gaining as much speed as possible.The problem here is being able to maintain the speed you gain! You lose it by bouncing on the ground (ouch!), landing on police officer gummies and smashing through gates.

After every run, you can spend the cash you've collected on upgrading skills and purchasing new types of special enemies. By buying and upgrading them, you make them show up more often during runs.

Each one of those special enemies are associated to a mini-game of sorts. Essentially, the mini-games ask you to perform certain actions with your left mouse button, and by doing so successfully, you gain more speed and/or height. So land on those as often as possible!

EDIT: You can discuss the game, exchange tips and tricks and compare scores on our juicy forum! http://juicybeast.com/for um/

EDIT #2: You can now purchase the original soundtrack of the game right here: http://brianallenholmes.b andcamp.com/album/burrito -bison-soundtrack

Note
This information only refers to the official release on the Flash Portal.

Burrito Bison is a Toss game by JuicyBeast. It stars a barbarian warrior in what looks like a diabetic's nightmare- a world full of animated candy.
Burrito Bison stars a Mexican luchadore who gets sucked into Candy Land while shopping at a grocery store. There, gummi bears force him into an arena to fight. Rather than going along with their plan, the wrestler decides to escape by launching himself to the exit, squishing as many enemies as possible on the way.
Burrito Bison uses the same basic design as many Toss games. Players launch the character as far as possible using a roulette to determine the launch's initial strength, the rechargeable Stomp ability, and whatever items are found on the way. Depending on how well they manage to do before losing momentum, players receive a certain amount of currency, which can be used at a Shop to improve future runs. One unusual feature is the presence of several doorways, which can only be penetrated at a certain speed, forming a kind of Boss to each of three levels.
Enemy Types
Edit
Different kinds of enemies will react differently to being landed upon by the flying barbarian. The following is a partial list of the more common foes.
Regular Gummies are the generic foes that will cause small amounts of bouncing and drop small sums of money.
Police Gummies will drastically reduce the player's speed.
Special Gummies have items that help the player.
Floating Gummies are similar to Regular Gummies, but they float in the air.
Bubble Gummies encase the player in a bubble, allowing them to soar for a few seconds.
Balloon Gummies make the player's character fly high into the air.
Pogo Gummies let the player use pogo sticks, which, when used correctly, allow the player to have several extra powerful jumps.
Presentation
Edit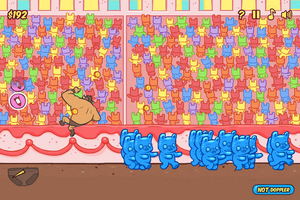 Burrito Bison uses a saccharine art style to portray the Gummis' kingdom. The various enemies are mostly monochrome, in order to make it easy to react on the fly. Backgrounds zoom by when traveling at high speeds, and swarms of animated gummis move around at once. A few tunes by Brian Holmes are used throughout the game.
Reception
Edit
Burrito Bison had a solid introduction to Newgrounds, with a Daily Second award and the Weekly Third. It really shone though in the following weeks, and has spent months as one of the best scoring games on Newgrounds. In total, the game received about 300,000 views in 3 months, and as of May 2011, has an average review of 9.7/10. It went on to be voted the top game of February 2011, making it eligible for the 2011 Tank Awards.[1]
Community content is available under
CC-BY-SA
unless otherwise noted.