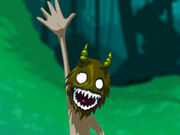 Bitey is the main character of the Brackenwood series by Adam Phillips, and is a significant character in his world of Brackenwood. He has a humanoid body with hairy legs and head, hooves, and horns. He is also gifted with extreme speed
History
[
]
Bitey belongs to a species called the Dashkin. His race, however, was wiped out when he was young, making him the Last of the Dashkin. Although he was adopted by two wild bigfeet when he was young, he was soon abandoned after they had their own children. This has made it hard for him to trust others. In order to survive, he had to fend for himself. He used his amazing speed to get by, often at the expense of others.
Personality
[
]
Bitey is somewhat more intelligent than most of the other denizens of Brackenwood. Although being intelligent, like his speed, helps him survive, it occasionally gets him into trouble and helps contribute to his loneliness. Bitey's isolation has made him a sadist, and he often torments the local wildlife. He uses his great speed as a tool to cause trouble and escape from the consequences. Even when facing real danger, he will sometimes go out of his way to infuriate others, such as when he met Lemonee Wee and the Littlefoot's parent. However, he is not evil, and has never knowingly killed a creature. Bitey's cruelty is derived from his extreme loneliness and feelings of being abandoned. He occasionally reveals his softer side, such as when he dreams about playing with a Fatsack in Prowlies At The River, despite having abused one in his previous appearance in Bitey Of Brackenwood. His greatest weakness is his fear of spiders.
Reception
[
]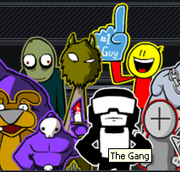 Bitey appears prominently in several major places on Newgrounds, including the Flash Portal Despite not appearing in until 2004, fairly late in Newgrounds history, Bitey has become one of Newgrounds's mascots. and the main Movies page. Every main Brackenwood entry that Bitey has appeared in has won both the Daily Feature and Weekly Users' Choice awards. All of the same movies also won the Review Crew Pick except for Littlefoot. Waterlollies and The Last of the Dashkin were both Tank Awards nominees, and Waterlollies actually won the movie award for 2007. Together, they have a total of over 12 million views. Each Bitey-related entry in the series also has a score of over 4.30/5 and an average review of at least 9.6/10.
Bitey's Future
[
]
As of 2019 Adam has secured funding from Epic Games MegaGrants and is bringing his 2d animation into Unreal Engine. Adam animates Bitey's adventures every weekend live on his Twitch channel.
External Links
[
]