"Bad Dudes vs. Bin Laden"
Author:
Tom Fulp
Audio used:
Origin:
09/14/2001
Size:
180.8 KB
Score(As of January 6, 2012):
3.50/5.00
Awards:
Author's comments:
I've been very conflicted ever since the attack on NYC... I was considering making a tribute movie that portrayed the positive acts that occurred during the aftermath, but eventually decided to stick with my roots and make a violent video game. I have a hard time trying new things.

I wasn't sure if a game would be appropriate, but I realized that it really is. You see, America is very sad right now, but it is also very ANGRY. People need a way to vent their frustrations, and I feel this can help.

I also tried to pack the game with a positive message. There are a lot of nice people in my city who wear turbans, and I don't want people giving them dirty looks just because of some wacko terrorists. So with that said, go kick Bin Laden's ass!

Note
This information only refers to the official release on the Flash Portal.

Bad Dudes vs. Bin Laden is a Flash game by Tom Fulp. It is a response to the 9/11 terror attacks which had occured just a few days earlier and is a parody of the game Bad Dudes Vs. DragonNinja.
The game loads while a statement from Tom Fulp is shown. He explains that September 11 was a horrible day that showed many of the greatest traits of many Americans, especially a sense of unity. However, he protests against the mistreatment of people who happen to wear turbans. He finishes by stating that he decided to keep on doing what he does best: making violent games, in this case, about beating up Osama bin Laden.
The actual game opens up with the Bad Dudes of classical video gaming fame reiterating the idea that they are only angry with Osama bin Laden, not Arabs in general. The player is then told that he's been captured, and is asked to kick his ass. The player then enters an arena with bin Laden, and attacks him by clicking on different parts of his body. Both bin Laden and the player have a certain amount of health, but bin Laden can easily be defeated by frequently punching and kicking his entire body. Ronald Reagan, mistakenly believing that he's still the president, congratulates the player. The game closes with a final disclaimer from Tom Fulp, encouraging people to play violent games, but threatening to sic the Bad Dudes on anybody who take it out on kind Arab citizens.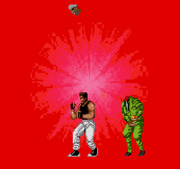 Bad Dudes vs. Bin Laden uses many of the original sound effects and sprites as the 1988 game it's based on. Various references to the game, such as Ronald Reagan congratulating the player and breaking the fourth wall at the game's intro, are made. However, there is some original artwork, most notably in the violent finale of the game. Tom Fulp also includes relatively large amounts of text at the beginning and end of the game in order to discourage people from attacking Arabs.
A sudden reporting of Bin Laden's death is announced on May 2nd, 2011 where US soldiers located and pinpointed his exact locations and killed him with two shots to the head. This caused many sudden views and loads more reviews to this flash in particular.
Much like War On Terrorism, Bad Dudes vs. Bin Laden was very popular after the events of 9/11. As of January 6, the game has over 4.5 million views, in addition to an average review of 7.6/10. This is particularly impressive considering the fact that the game didn't receive any awards. Additionally, Bad Dudes vs. Bin Laden is featured in three collections: Flash Portal History, Fighting Games, and War on Terror. Bad Dudes vs. Bin Laden also caught the attention of the mainstream media. The New York Daily News cited the game as a typical Newgrounds response to the 9/11 attacks.[1]
Community content is available under
CC-BY-SA
unless otherwise noted.