"B"
Author:
StrawberryClock
Audio used:
None
Origin:
08/15/2001
Size:
0.3 KB
Score(As of 15 November, 2010):
3.75/5.00
Awards:
Turd of the Week
Author's comments:
B
Note
This information only refers to the official release on the Flash Portal.
B is a flash "cartoon" submitted to Newgrounds on August 15, 2001 by StrawberryClock. The flash is simply one frame with a red letter "B" in the center of the screen. It passed with an initially low score, and won Turd of the Week. According to Tom Fulp in 2001 Flash Portal History "No-one knows how it survived". It is generally understood to be the inspiration behind the Clock Crew due to its "miraculous" survival in the Flash Portal despite being nothing more than a single letter B with no animation- which is against Tom Fulp's specifications for a flash submission.
Reception
[
]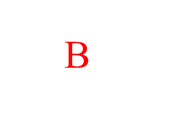 The movie has since maintained a higher score through support from the Clock Crew. As of November 2010, its average review is 9.4/10. The movie won the Turd of the Week award, and, due to the support of the Clock Crew, it has a remarkably high score for a Turd of the Week: 3.75/5. This is second to only Xiao Xiao No. 6, which has a score of 3.95/5.
B is featured in Flash Portal History and the Clock Crew collections. The letter "B" is the icon for both of these collections. It has been viewed over 1.3 million times. Other people who founded the Clock Crew around the character Strawberry Clock looked upon B as the Clock Crew's central pillar, and the day of its submission is celebrated as Clock Day, a very large event on Newgrounds.
Parodies
[
]
A number of parodies of B are submitted every year, usually on Clock Day, such as:
External Links
[
]