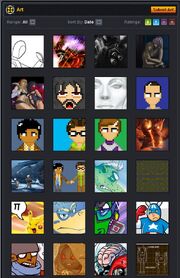 There has always been art on Newgrounds from the very first pitures that Tom Fulp put on the site, through all the Flash animation submitted which is primarily art and art in the Art forum threads until finally Rob created the Art Portal with its system of Scouting to select quality art.
A number of staff and others have contributed art for the pages over the years including Bluebaby, who created the grotesque pictures in the Obituaries to Wade Fulp, who created some of the early Experience level weapons icons.
Although the rules for Flash Submission state that Newgrounds doesn't want stills where the only animation is like a sliding picture show, there have always been some submissions that are more or less just that.
People have always put their art into the forums with their signatures and pictures of all sort uploaded in their posts, which evolved into the Art forum, with art threads and competitions.
In 2009, Rob created the Art Portal, which uses a system where those who are already on the Portal can select art from users submissions to go onto general display in the Art Portal Page.
Art Information and Advice
[
edit
|
edit source
]
There are various threads of info in the Art Forums. There is also a user account full of useful links and information about Art on Newgrounds called Art 101.
Community content is available under
CC-BY-SA
unless otherwise noted.